Reconsider Jell-O wrestling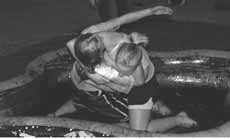 Tiny Redell
Bettina Marie Adams
Freshman, art major
I was thoroughly disgusted at the display I witnessed at the Tau Kappa Epsilon and Phi Kappa Tau, Tuesday evening rush night.
Since when did women wrestling in Jell-O promote brotherhood and fraternalisim?
The blindfolding of the women upstairs, and the hosing off from the Jell-O wrestling downstairs were sickening to me.
Having been a student at this university for two years, I'm outraged at the administration, faculty, advisers, and the Student Life department for approving, and letting an activity like this go on.
Not only was I disgusted with the behavior of the fraternity men, I was offended and embarrassed to be a woman on NKU's campus.
Being a member of a fraternity myself, I have never been embarrassed or ashamed to attend, and participate in all their events like I was Tuesday evening.
I hope that by voicing my opinion, fellow students, administration, faculty, and staff will take greater care when approving and participating in such events.