METS Center celebrates learning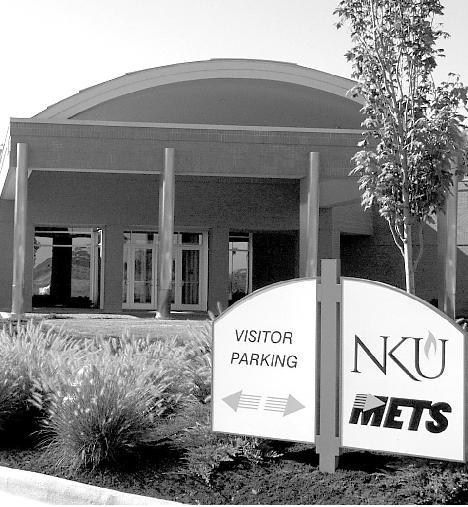 Pam Atkinson
A ceremony to dedicate the Northern Kentucky University Metropolitan Education and Training Services (METS) Center for Corporate Learning will be held Wednesday, Sept. 24 to celebrate the official opening of the $12 million facility.
The dedication of the new METS building is only one part of a week-long "Celebration of Learning" that offers free training sessions and tours of the METS.
The "Celebration" began Sept. 22 and continues through Sept. 26.
The METS began operation in 1999 after NKU President James Votruba acted on input from local business leaders who expressed the need for more high-tech training, but were unable to afford to buy, house or maintain the equipment within their companies.
METS, which Votruba refers to as a window to education and a way to further economic development and better prepare the area's workforce, has served approximately 1,300 employees of 250 corporate clients since its initial opening in October 1999 at the Covington Rivercenter.
The new home of the METS Center is located in CirclePort Office Park in Erlanger.
Rob Snyder, executive director for the METS, said the center houses $5 million worth of "absolute state-of-the-science…Star-trekian technology," which draws corporations from both inside and outside the region.
"Seventy-five percent of the corporations are from outside Northern Kentucky…(that) brings dollars into the area," Snyder said.
The training sessions and tours are free and open to the public.
Luncheons featuring keynote speakers will be held Monday, Tuesday, Thursday and Friday require a ticket to attend. For more information call (859) 647-6387.