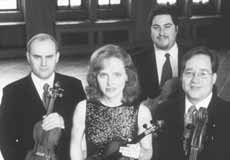 Courtesy of music.nku.edu
String Quartet performed an "Italian Feast" Sunday, Sept. 21 in Greaves Hall. The concert consisted of works from, or influenced by, the Romanticism period in Italy.
The Amernet members are violinists Misha Vitenson and Marcia Littley de Arias, Michael Klotz who plays the viola, and Javier Arias-Flores who plays the cello.
Vitenson and Arias-Flores are artists-in-residence while Littley de Arias and Klotz teach chamber music at Northern Kentucky University.
The founding group members Littley de Arias, and Arias-Flores formed the quartet in 1991 while some of the members studied at The Julliard School, a conservatory that offers professional training in the arts.
The music of the quartet was balanced nicely with the music of Paul Posnak a guest pianist from Coral Gables, Fl.
During the concert Posnak and Amernet performed a piece by Vittorio Giannini, a Philadelphian composer that modeled Italian Romanticism, titled "Piano Quintet in F-Sharp Minor".
"This is a piece that requires a great deal of flexibility," Posnak said.
"In an ensemble situation they are really great collaborative players."
Because the piece was so difficult Posnak said he came into town Thursday to practice the piece with the quartet.
Freshman Jim Herman commented on the group's ability to play together.
"He (Posnak) provided a lot of balance with strings," said Herman.
Sophomore Michael Mastrandrea, a pre-pharmacy major, agreed, "They really got into what they were playing."
During the second movement of the "Piano Quintet in F-Sharp Minor," the energy of the performers peaked.
The two violists, Klotz and Vitenson popped up off their chairs as they played passionately.
Klotz was so absorbed in playing that his glasses flew from his head.
"Amazing. The dynamics were awesome," said freshman Sergio Bridgett, a computer science major. "It seemed like they went in the studio and EQ it all."
Posnak will bring the Amernet Quartet to Miami to play this October with him at the Festival Miami, a five week festival that runs mid September to October.
"They are not only fun to be with as people, but very clear and easy to work with," Posnak said of traveling with Amernet.
Amernet's next performance at NKU will be October 8, at Greaves Hall.
They will premiere Daron Hagen's "Alive in a Moment" for string quartet and voice. Vocalist Paul Kreider will perform with them.