Get ready for MidPoint Music Festival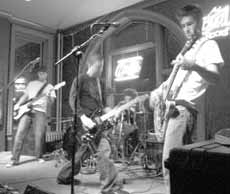 Bree Culnan
The time has come to end the notion that all music from Kentucky is country and that NKU doesn't know how to rock.
The 2003 MidPoint Music Festival (MPMF) returns to the area this weekend helping end the age-old philosophies while promoting unsigned acts and educating artists how to work in the lucrative business that is the music industry.
Co-founded by Sean Rhiney, a Chase Law graduate, MPMF is the Midwest's biggest music festival, hosting over 200 artists from the US and abroad, including five with close ties to NKU.
Last years inaugural festival drew 10,000 fans, and 150 bands at 13 Greater Cincinnati-area venues over the span of four days. This year the festival has moved to venues on or near Main Street in Downtown Cincinnati. Music industry conferences will take place at the Crowne Plaza Hotel.
Susan Vitello, returning as MPMF's Production Manager said that the past month has been filled with many sleepless nights preparing for the event.
"None of us sleep any hours in September," she said.
Aside from the 200 bands performing, two-days of the festival are dedicated to seminars featuring panelists and speakers from Los Angeles, New York, Chicago and Nashville. Seminars include: The Business of Music, Music Management, and a roundtable discussion regarding major labels. All bands participating in MidPoint were given the option of accepting a monetary payment or free access to the industry conferences.
Music lovers are encouraged to attend any of the artist showcases that take place Thursday, Friday and Saturday nights. Patrons have the option of paying a $5 cover at each venue, buying a one-day all-venue wristband for $10, or a three-day all-venue wristband for $25. The wristbands will only allow access to MDMF venues during showcase hours.
Radio station WEBN will be on hand to have patrons of the venues vote on MidPoint's best band. Ballot boxes will be located at each venue.