Defense shuts down UI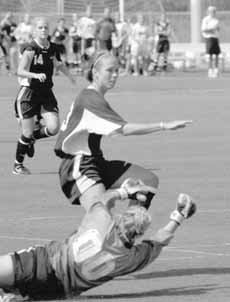 Tim Downer
WILDER, Ky, – On Sunday, the women's soccer team began their Great Lakes Valley Conference schedule,by defeating Indianapolis Greyhounds 1-0 at the Town ' Country Sports Complex.
The first and only goal of the game came near the end of the first half, by Senior, Kendra Zinser of NKU. Zinser was assisted by Freshman, Krista Rogers.
"I think we came together better as a team," Rogers said. "We had confidence in ourselves."
NKU has won five consecutive GLVC championships and defeated the University of Indianapolis twice last season.
This win was sweet considering that the lady Norse were defeated Friday night when they went up against Grand Valley State.
Head Coach, Bob Sheehan seemed pleased with the win against the Greyhounds.
"Anytime we can win a GLVC match, we're thrilled,"said Sheehan.
He went on to praise the women for their performance in light of having a very tough schedule according to him.
NKU goalie Sam Westerling go the shutout.
NKU will face Kentucky Wesleyan at home on Friday, September 26 at 5:30 p.m.
The panthers are currently 2-2.