Men fall to Truman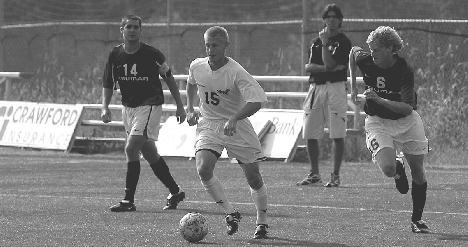 Tyler Butcher
WILDER, Ky. – Sean Birrell and Chad Baldwin each scored goals Saturday afternoon as the Truman State University men's soccer team defeated Northern Kentucky University, 2-0, at the Town ' Country Sports Complex.
Truman State, ranked No. 13 nationally in the NCAA Division II poll, used a 19-7 advantage in shots to remain unbeaten (4-0). The Bulldogs took a 1-0 lead 16 minutes into the game when Birrell found the net off a breakaway.
Truman State upped its advantage to 2-0 at the 68:25 mark when Baldwin fired in a 15-yard shot directly in front of the goal.
It was the third straight game, the NKU offense has been shutout. NKU dropped its third consecutive game falling to 1-3 on the season.
On Sunday, the Norse met up with yet another top-25 opponent facing off against Rockhurst.
Kurt Trouba's goal at the 71:57 mark snapped a 1-1 tie Sunday and lifted Rockhurst (Mo.) University to a 2-1 victory over NKU.
NKU had tied the match at 1-1 eight minutes into the second half when freshman Nick Rascona broke open and beat Rockhurst goalie Matt Meier for a score. The contest remained tied until Trouba headed in a pass from Chris Ulrich for the winning goal.
Rockhurst, ranked No. 6 nationally in the NCAA Division II poll, upped its record to 4-1. NKU fell to 1-4 on the season.
NKU will hit the road Friday for a 4 p.m. match at Oakland City University.