Hours allow custodian to enjoy family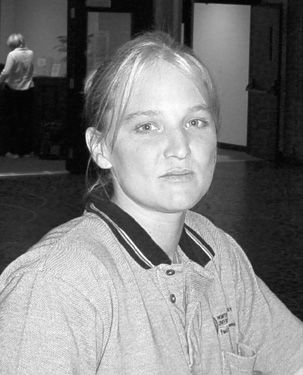 Susan Neltner
The faint sounds of sweeping can be heard from the top floor of the University Center. It is early in the morning, and the sound of a broom echoes throughout the building.
A woman with her hair pulled back in a ponytail pushes the broom.
Julie Enzweiler is one of the many custodians who work to keep Northern Kentucky University clean.
The most important reason Enzweiler likes her job is because the convenient hours she works allow her to spend time with her family.
She begins work at 5 a.m. and finishes by 1 p.m.
Enzweiler has four daughters: 16-year-old twins, a 9-year-old and a 6-year-old. She describes her life as "hectic, busy, but fun."
She said her daughters are all involved in school activities and sports. One of her twins plays volleyball and the other is a cheerleader at Campbell County High School.
The other daughters play soccer and dance, so Enzweiler is always doing something.
"That's why I work," Enzweiler said. "To help (the girls) do extra."
Enzweiler said the hours she works allow her to attend all of her daughters' events.
"I've not missed a volleyball game," she said.
Not only does working for NKU give Enzweiler the opportunity to spend time with her family, but having a job also opens up the doors to her education as well as her children's, she said.
Even though her hours seem crazy, Enzweiler said it's wonderful for her because it's not the time she wakes up that matters in life, but family.
"I'm close to all my kids," Enzweiler said. "Family's most important in life."
Enzweiler has worked at NKU Facilities Management for over a year and says working here is a good experience.
At her previous job she utilized her diploma as a legal secretary, but she realized that sitting behind a desk was not what she wanted in life. "I'm just not a sit-down person, so I hated it," Enzweiler said. As a custodian at NKU Enzweiler gets to move.
"I float (here)," she said. "I go to different buildings, vacuum, sweep and mop." Her other responsibilities include cleaning glass and the elevator, dusting and wiping boards.