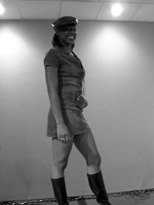 Pam Atkinson
The women of Zeta Phi Beta Sorority held their fifth annual "Klozing Da Gap" fashion show Friday, Sept. 12 in the University Center Ballroom.
All proceeds went to Shepherd's Crook Ministry, a charity designed to aid orphans throughout the world with severe physical problems.
Patty Morwood, a representative of the ministry and alumnae of NKU, said these orphans are special.
"There are different kinds of orphans but these orphans have special needs," she said. "They are blind, born without a limb, have heart defects and they are the ones that really no one cares about.
"Having a cute, fat, chubby orphan is one thing, having one where something is wrong with them is another."
Morwood explained to the audience how a benefit such as the fashion show could help these children.
"What this ministry does is raise money and receive money from people like you," she said. "And we put that money in the account of a child, so that the family here in America can bring the child home."
"We are adopting them from the hard places: Bolivia, Columbia, China, Korea, Bulgaria and Romania," Morwood added.
Not only did the fashion show help to raise money for orphaned children, it also brought people from different backgrounds and styles together.
These included Greek fraternities and sororities, non-Greek students and international students. By opening the doors for everyone, the fashion show allowed models to display their culture, identity and personality with clothing.
The show was composed of six sections.
The first, entitled "Just Chillin,'" exhibited casual wear. The next section was "Bout that Buzness" and featured models in business attire.
Other sections included "In Da Club" and "It's a Greek Thang," where members of various fraternities and sororities could sport their favorite Greek attire.
Immediately following was "Been Around the World," which gave international students an opportunity to display their heritage with clothes. The final section was "Evening of Elegance."
The lights were dimmed to set a romantic mood. Female models wore formal dresses of crimson, black and white, hot pink and pastel colors.
"The fashion show was a big success," said sophomore Danielle Allen. "I really had fun and we should have more events where everyone can come together."
"This is my first time and it was really fun," said sophomore Josh Dobbins, a model in the show. "It was real hot and sweaty back there. I had a nice little time."
Zeta Phi Beta Sorority, Inc. reached many of its goals by the end of the fashion show and were able to donate proceeds to help needy families.
The events also brought students together "in a very entertaining and fashionable manner," said Jermar Mack, a member of Phi Beta Sigma.