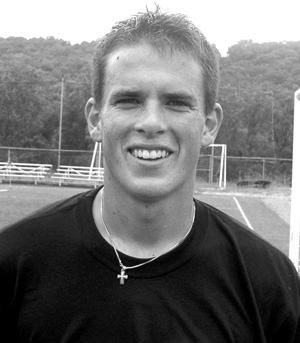 Tim Downer
This week: Men's soccer goalie Nate Madden.
Elias Hajjar: Last season the men's team finished with 6-10-2 record, No. 8 in the GLVC. This season you are ranked No. 7. Are you guys getting the respect you deserve? Nate Madden: You get what you deserve, and we really didn't perform that well last season, so we don't deserve respect.
EH: What's your take on new head coach John Basalyga? Good choice by NKU? NM: I think so! He's working us real hard in practice. I think he'll turn the team around for the better. EH: If the game comes down to penalty kicks to decide a winner, would NKU prevail? NM: Yeah, I think so. Yeah, we will definitely prevail. EH: Should Pete Rose be reinstated? NM: Definitely! He was a great baseball player. I don't think what he did outside of baseball should affect him being reinstated.
EH: How do you feel about Anna Kournikova's decision to stop playing tennis and focus on her other assets? NM: I think it is a good decision. She was never really good at tennis. She brought money to the women's game, but she's a much better model than tennis player.
EH: Lebron James just signed a contract with Sprite for $12 million. If you had that much money right now, what would you do with it? NM: Well my parents have helped me out a lot, so I'd give them almost half of it. I'd invest half of it and what ever is left over, I'd blow.