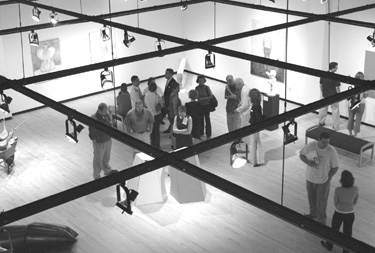 New Art Show
Wondering what to do on a Friday that is free, interesting and fun?
The Pendleton Art Center is an alternative to the usual dinner and movie. The atmosphere is causal and laid back good for hanging out with friends, yet exuding an elegant air ideal for a romantic date.
Pendleton Square and three other galleries, the Annex, Studio 510 and The Pendleton Coffeehouse, are located on Pendleton St. in Cincinnati and are home to over 100 local artists.
Admission to the galleries is free to the general public on the final Friday of each month from 6-10 p.m.
On Aug. 29 the gallery was filled with children, college students, and more mature viewers discussing techniques or purchasing the art by the featured artists.
The artists are welcoming and friendly to all questions and provide a variety of free food and drinks.
The art varied from watercolor portraits to oil abstracts, to folk jewelry.
One part of the gallery that should not be overlooked is the Wilson Gallery, located on the third floor, which features photographs by Joseph H. Wilson Jr.
Wilson captured the simple beauty of nature with eye-catching, breathtaking photos.
An equally interesting exhibit is the art of Kari Rosenberg, located on the first floor of The Annex.
Rosenberg specializes in "textured surfaces of light and color." For those who miss final Friday, there is also Second Look Saturdays.
The Saturday after final Fridays, the gallery is open noon to 4 p.m. so visitors get a last chance to see the featured art, or see it a second time.