Student's first assignment: the dorm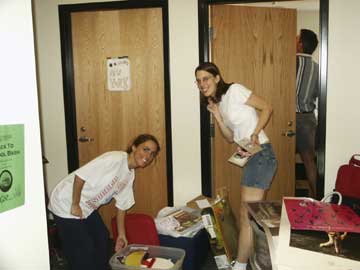 Richard Northcutt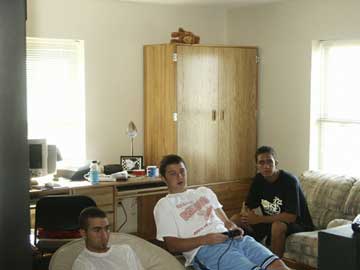 Richard Northcutt
Virgin walls never before touched by a college student's hands experienced a shock for the first time on Friday Aug. 22 and Saturday Aug. 23 as residents of the new dorm laid claim to what will be theirs for a year.
With the addition of the new dormitory, University Suites, Northern Kentucky University has the capacity to house over 1400 students. Matt Brown, Director of University Housing, said this would increase housing volume by 40 percent.
That is about 400 more residents who now have the ability to add their personal flare to the otherwise barren walls. As parents, dorm inhabitants, and representatives from sororities and fraternities helped make moving into the dorms easier, one can see that some students do not plan on holding anything back with their newfound freedom.
Daniel Helmick a freshman Finance major said, "You gotta have the room decorated."
But for many students it is easier said then done. Many students are indecisive on how to go about decorating their rooms. Some like Lindsey Heyob a freshman Music Education major know what they want; posters, and pictures and stuffed animals but do not know exactly how they are going to expand their horizons. Heyob added that even though she knows she wants posters she did not know which ones she was going to bring. "Probably Lord of the Rings," Heyob said. "I don't know anything else off the top of my head."
Kristi Britton a junior Elementary Education major falls into another category of decorating crazed students. She plans to sport her sorority spirit proudly even if that means in her bathroom. "Our bathroom is pink and green, Delta Zeta colors," Britton added with a heightened sense of excitement.
Brandon Kiely a junior majoring in Psychology and Marketing falls in the same group as Britton. "The first thing I did was put up my fraternity letters," Kiely said. "Since we don't have a house I wanted to make it fraternity oriented."
Other students focus on another sort of spirit, the party one. When asked on how she plans to decorate her room Natalie Howard an undeclared junior stated simply, "Palm trees." Howard said she plans on purchasing the palm trees from Party Source and then hanging them in her room from the ceiling. Howard added, "This will definitely be the party room."
Instead of having a party room Adam Thiel a freshman Music Vocal major said he plans on just bringing his room from his house. "I'll probably just empty my room at home and bring it here." Thiel said. This means his dorm room will be strung with funky lights and fake spiders hanging from the ceiling.
Nicole Stein a sophomore Business major and her roommate Emily Riedy who have known each other since sixth grade plan to make their room into a little apartment. "We got posters, a TV, and a couch," Stien said. "We plan to put it in one of the rooms." Riedy added, "We're going to bunk the beds, share one room, have a hang out room with a dart board, and a kitchen table."
Overall students will have a year to mold their rooms to their liking. By the time they leave next year the rooms that at the beginning of the year were lifeless will have experienced a part of the residents' personalities enough so that they will never be lifeless again.