Memorial fund set up in student's name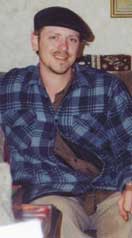 Northern Kentucky University student Eric Meyer, an English major, poet, and musician, died in a fire at his Clifton apartment on May 19. His family and friends want to preserve his memory through a scholarship fund for students who share his interests.
The Eric D. Meyer Poetry Scholarship will be awarded to poets of any major attending NKU. $10,000 has been raised to date and additional fundraising is planned.
Meyer was passionate about poetry. His poetry was published internationally and he was an advocate for poetry at NKU. Last semester when Meyer and friends believed that the university wasn't doing enough to promote National Poetry Month, they covered the campus in chalk-written verse. Yes, Meyer was a 'Ninja Poet.' His girlfriend, NKU alumnus Elea Mihou, said he also wanted broader poetry course offerings and opportunities.
Meyer's friends have labored to memorialize him. They have collected his poetry, shared it, and made plans to publish it. They established a memorial website at www.ericdavidmeyer.com that gives a glimpse into his life and poetry and also news of their efforts.
Meyer was a member of several local bands. His former band mates and friends organized benefit concerts to provide funding for the scholarship fund. After three concerts and fundraising they have raised the $10,000 needed to endow the scholarship. They are now working to make the scholarship a more considerable one.
At an August 8th Southgate House concert, friends donated 32 pieces of student and professional artwork ranging from paintings and photography to sculpture. The benefit raised $2500 from the silent auction of 26 pieces.
Eric's father David Meyer walked around the upper floor gallery of the Southgate house at the benefit.
"The kids have just generous hearts. So many people my age talk [negatively] about your generation," he said, looking around the gallery. "How many people my age would do this?"
He remarked that it means a lot that Eric's friends have raised almost all the scholarship money with $5-10 donations.
Mihou said, "Eric would be really flattered" by what his friends are doing. She had "no doubt that he would have done the same for any of his friends."
"He was really giving, really committed to people."
The next benefit concert will be 8 p.m. Saturday August 30 at the Madison Theater in Covington. Bands scheduled to perform are Thistle, a reunited Koan, Mad Saint Jack, Bottom Line, Death in Graceland, and Left Turns Right.
Mihou is happy the scholarship is endowed. She hopes the scholarship can "support and nurture people to do something that Eric loved."
She encourages students to "come out to the show Friday to support Eric's memorial and poetry at NKU."