Ken Ramey – new Vice President of Administration and Finance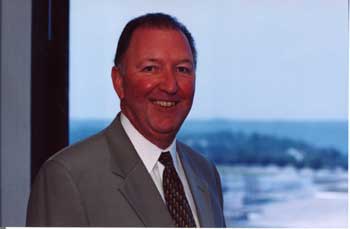 Tim Downer
Ken Ramey was named Vice President of Administration and Finance on May 28. He replaced Mike Baker, who retired after 21 years at Northern Kentucky University.
The major challenge Ramey will encounter this year is how to plan for university advancement in the face of a limited budget.
Northern Kentucky University is the most under-funded university in the state, with a budget of $120-$125 million as of July 2003, according to Ramey. He said the budget is far less than adequate for the cost of running the university. NKU is $26 million under-funded compared to its benchmark institutions.
"The problem we have is we're so grossly under-funded compared to other universities in the state. You pay about 52% of your education. The students here are paying more per credit hour to get their education than any other institution in the state. That's how under-funded we are at this point in time."
The threat of additional budget cuts later this year is another concern of Ramey's. Ramey said the university is discussing contingency plans in case of budget cuts from the state of Kentucky.
"We don't have anything in concrete yet. I think the institution has set aside about 2% in anticipation of a cut. But any cuts above that, we're just in the beginning stages. We don't know those cuts are coming, but we want to go ahead and have discussions about it and be prepared that, should they occur, we'll be able to address them right away," he said.
When asked if tuition or student fees could increase if the budget is cut, Ramey said, "That's always a possibility."
"Anything we do will try to impact students the least. The last thing we want to do is take away services that would diminish the quality of the experience of the students," he added.
Although funds are limited, Ramey named several projects that will enhance the quality of student life at NKU.
Recently completed projects include the renovation of the campus bookstore and Norse Commons serving area. Another new addition is the Jazzman's Caf