Warm weather fashions heat up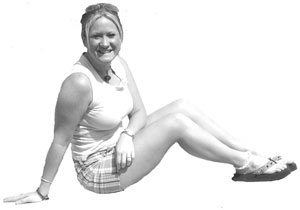 Tim Downer
Still wearing the same warm-weather-wear you've had for years? If you are, then it's probably time to update your spring and summer wardrobe.
Though spring and summer clothes usually have universal characteristics from year to year, certain variations on these warm-weather staples can make you look a notch better than your friends.
But how do you know what is in and what is not?
You could just believe the girl behind the counter at the mall, but if you want some additional advice, the Internet can be a great source for answers.
According to about.com, women are going back to more "lady-like" or "girlish" fashions.
Dresses are making a big comeback this season. Look for pastels, dots, halters and Asian influences and, to add an even more feminine touch, you can add bows or ribbons this season.
Also, about.com predicts that short mini-dresses and full skirts in retro prints will be hot.
Other strong looks this season for women should be big, "billowy" tops, slim or drapey cargo pants (not traditional baggy cargos), "cropped" pants that aren't quite as high-cut as capris, and bright-colored mini skirts will also be popular.
For accessories, slingbacks will be the footwear of choice and punk-inspired "hardware" will be in.
Tote bags will again be popular this season.
Canvas and leather bags will be hot for carrying your stuff, whether it's your laptop, your cell phone or your lunch. Bags will have a combination of all the diverse trends, from details like buckles and zippers to bows.
Now, if you're wondering what to leave in your closets this season – peasant blouses, hippie anything and tooled leather are out for the summer.
One student is looking forward to the fashion changes for spring and summer. "I definitely agree that it is time to pack away all the peasant blouses and hippy chick gear," said Angela Marsh, a junior at NKU. "I never understood that trend and absolutely support its disappearance."
For the "teen" crowd, slightly younger versions of these fashions will be in this season. About.com's top five list of female teen fashion includes chic cargoes, micro-mini skirts, kimonos, slim trousers and the "fifties look."
Baggy, unflattering cargo pants are out and are replaced this season with sleek, slim cargoes or the loose fitting variety in drapey fabrics in bright, summery colors.
Follow the same guidelines with trousers this season.
Though the micro-mini skirt is going to be at the top of the skirt list this season, any length skirt will be in.
What you wear can vary depending on where you're wearing it, whether it's work, school or the club.
Kimonos will also be in this season. Paired with sleek trousers and some stilettos, a kimono or Asian-influenced top can bring a feminine touch to your wardrobe.
Finally, ladies, the "Happy Days" style is back. Fifties inspired Circle skirts and lady-like dresses will be hot this season.
Mia Gray, an assistant at Express in the Florence Mall, said that most of these trends have been popular so far.
She said slim, cropped cargo and flight pants have been extremely popular. Dressy tops in synthetic fabrics, terry cargo pants and hoodies have also been popular, according to Gray.
"We can't even keep terry in the stores," Gray said.
Generally, spring and summer's fashion trends for women met approval with women at NKU.
The only trends that met a mixed review were kimonos and Asian-influenced prints as well as the punk look.
"I definitely cannot see myself wearing metallic shoes or a kimono," said Dawnielle Monique, a sophomore at NKU.
However, others had good reviews of the trends. "It is time for more punk," Marsh said. "It adds color and fun to fashion and it is such a fun trend to experiment with."
Though men's fashion rarely changes drastically, this season brings a couple surprises for the guys.
First, the uniform look will be hot this season. Whether it's a work uniform or military, uniforms are a strong look this spring and summer.
"The uniform look seems like an attempt to harness a false sense of patriotism through fashion," said Brent Schanding, a sophomore at NKU.
Safari jackets and cargo pockets galore on pants, shorts and shirts will be some of the hottest items – on the street and on the beach. Cargo pockets on longer length trunks than we've seen recently and darker colors will be the vogue way to go when you get in the water.
However, bright, summery colors like lemon yellow and white and floral and dragon prints will also be hot.
You may have already noticed this one, but stripes are going to be even hotter come warmer weather.
A variety of colored stripes on shirts will be especially popular this season, accompanied with stripes on pants and even jeans.
"I've always been a big fan of stripes," Schanding said. However, he offered the caution, "Avoid red stripes at all costs unless you want to look like last year's candy cane."
Brandon Releford, a store manager at Structure in the Florence Mall, offered similar opinions about the trends for the forthcoming season. Linen drawstring pants, embroidered tops (some with Asian designs), and yarn-dyed, multicolored striped shirts have been hot this season, Releford said.
He added that open polo shirts, also called open pop-overs, have been popular.
Closer to summer, Releford said, embroidered shorts, again with Asian-influenced designs, as well as the vintage, cowboy-look (such as western-style embroidered shirts) will be popular.
About.com expects the Asian-influence to make its way to men's fashion as well this spring and summer. Jade green fabrics, Asian prints and even kimonos will be hot this season, according to the website.
"Kimonos for men?" Schanding said. "I like androgynous style, but the 'Madame Butterfly' look needs to go back into its cocoon."