Students spread word about homelessness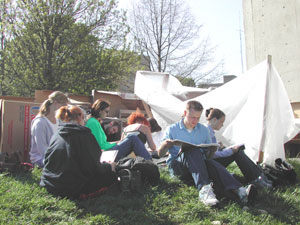 Fran McQueen
Northern Kentucky University is often dubbed 'the concrete campus.' For three days last week, however, it was also 'the cardboard campus.'
The Sociology Club and the Sociology Honors Society (AKD) sponsored a cardboard community on campus from April 22 to April 24.
The five-room cardboard structure Shantytown spanned about 15 feet next to the Fine Arts building. Despite low temperatures and strong winds, Sociology students lived and slept in the structure for three days before tearing it down Thursday afternoon.
Misty Morgan of the Sociology Club said the project's goal was "for more awareness that there are problems other than what is portrayed in the media. We want to let people know that this is a year-long problem, homelessness is always out there."
During the three-day stay in Shantytown, club members passed out literature to students on campus that illustrated the plight of America's homeless. It gave statistics on local, national and worldwide homelessness. For example, it stated that 25,488 people in the Greater Cincinnati area lack permanent housing.
The project came about at the suggestion of Dr. Barbara Arrighi, according to Morgan. Sociology students Misty Morgan, Sandy Mast, Justin Sebastian, Jennifer Wooten, Amber Marshall, Jason Rodriguez, and Julie Shirk were also involved, as well as others. Students handed out literature during the day and braved the cold temperatures at night.
Arrighi said, "The students wanted to create a project that would help to inform the NKU community about the worldwide lack of safe, affordable housing."
The two clubs hung posters on the exterior walls of the Shantytown. The posters contained "shock and awe information" designed to inform students "about the inhumane living conditions millions of people are subjected to every day," Arrighi added.
AKD member Sandy Mast said the objective was to increase awareness, "especially with the war going on and Iraqis being without homes."
According to Arrighi, "students are concerned that with the tax cuts on the horizon and the monies spent on the war in Iraq, help for the poor will be further marginalized in the federal budget."
"We hope to make [Shantytown] a yearly event," said Morgan.