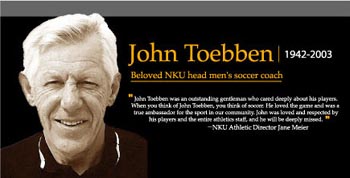 John Toebben knew soccer and how to coach it. He coached the NKU men's soccer team for the past 13 years, building a career record of 137-105-15. In his very first season with the Norse, the National Soccer Coaches Association of America named him Mideast Coach of the Year.
When not involved in coaching, Toebben was busy developing and owning the Town ' Country Sports Complex in Wilder, Ky. The complex gives people of all ages a place to experience a wide variety of sports, and has served as NKU's home field for the past five seasons.
"Coach Toebben was a person who ran everything. He showed compassion for his players and wanted everything to be top-notch," said senior men' soccer player Bobby Pifer.
"He was a great, caring boss who took care of workers and players and allowed his players to work at Town ' Country."
Coach Toebben died late Saturday night in Saint Elizabeth Medical Center, Edgewood, after a seven-month battle with cancer. He was 61.
Toebben sold the Town ' Country shortly before he was diagnosed with cancer.
"Coach will be missed by the whole community. He knew everyone and everyone knew him," said Pifer. "He will be missed by all."
Born in Lorup, Germany, Toebben came to Northern Kentucky and began coaching soccer at the high school level.
He coached at Covington Catholic from 1975-1979 before heading to Covington Latin from 1980-1984. Before coming to NKU, Toebben coached three years at Thomas More College, guiding them to a 24-24-5 record.
"He was a good guy who knew what he was talking about," said former NKU soccer player Tony Becker. "He knew the game of soccer. His life was soccer."
"I thank him for letting me play at the college level and he let me take my ability to another level. No matter how bad I played, he let me play through it. A lot of coaches wouldn't have done that," said Becker.
"He stood by the players he had on the field, and no matter what he did, he did it because he thought it was the right thing to do. Our struggling record the past couple of years doesn't reflect him, but the players."
Survivors include: his wife of 37 years, Judy Adick Toebben; a son, Jack Toebben of Taylor Mill; a daughter, Jenny Wichmann of Crescent Springs; two brothers, Matth Toebben of Villa Hills and Rudolf Toebben of Surwold, Germany; five sisters, Marie Kreutzjans of Lakeside Park, Agnes Wessels of Crescent Springs, Anna Moring and Tekla Rieken, both of Lorup, Germany, Elizabeth Oldopp, also of Germany; and three grandchildren.
Visitation will be held at 4 p.m. Wednesday at St. Agnes Church in Ft. Wright, Ky. Mass will follow at 7 p.m.