Norse baseball woes continue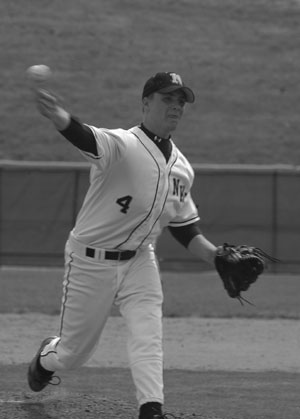 Tim Downer
Brandon DeJaynes hurled a three-hit shutout and recorded 11 strikeouts Saturday as Quincy University defeated Northern Kentucky University, 4-0, in the first game of a doubleheader at Quincy Stadium.
DeJaynes upped his season record to 8-1 with the victory. Quincy scored twice in the first inning off NKU starter Mike Marksbury, and the Hawks coasted behind the pitching of DeJaynes.
In the nightcap, Quincy jumped out to a 5-0 lead after two innings and posted a 9-3 win over NKU. Kevin Sewell drove in two runs to lead Quincy, while teammate Chip Wagner went 3-for-4 with an RBI.
Josh Perkins hit a home run for NKU, and Craig Craddock added two hits. NKU starter Geoff Freeborn, who allowed the first five batters to reach base in the second inning before being relieved by Derrick Moeves, suffered the loss.
Quincy improved to 23-17 overall, 13-10 in the Great Lakes Valley Conference. NKU dropped to 22-22 overall, 13-13 in the GLVC.
NKU, the defending GLVC champion, is now tied for sixth place in the conference standings with Kentucky Wesleyan College. The top six teams in the GLVC standings will qualify for the GLVC Tournament.
Kentucky Wesleyan, however, holds the tiebreaker with NKU for the sixth spot due to the Panthers' three-game sweep against the Norse this season. Southern Illinois University at Edwardsville is 12-12 in the GLVC and is also seeking the sixth and final berth in the GLVC Tournament.
NKU and Quincy wrapped up the three-game series Sunday with a Norse win, 6-5.
Article by Sports Information