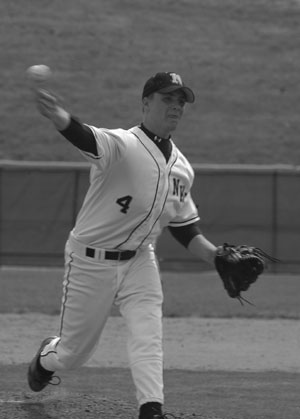 Tim Downer
The NKU baseball team continues to struggle as they lost Saturday to conference rival Kentucky Wesleyan.
The loss capped off a three-game series against the Panthers, in which NKU lost all three games.
The loss is the eighth straight for the Norse, putting their record at 19-20 on the season.
"We're just not hitting the ball when we need to," said Head Coach Todd Asalon. "The pitching has been good enough, but we just haven't done the other things needed to win."
NKU pitcher, Geoff Freeborn threw 7 2/3 innings, giving up just one earned run. However the defense committed three errors behind him, allowing two unearned runs and giving Kentucky Wesleyan an early 3-0 lead.
The score remained 3-0 until NKU was able to get on the scoreboard in the eighth inning. third baseman Josh Perkins, led the eighth with a double off the left field wall. Keith Jackson followed the double with a single which scored Perkins from second.
After a double from rightfielder Ryan Wells, pinch hitter Lewis Jones delivered with a base hit, scoring both Jackson and Wells and tying the game at 3-3 going into the ninth inning.
With one out in the ninth, Wesleyan leftfielder Patrick Donahue singled into center field and advanced to second on a wild pitch by Chris Unkraut.
After a pop-out, Panthers right fielder Dusty Stevens had a base hit into right field which scored the go ahead run for Wesleyan.
Kentucky Wesleyan pitcher, Justin McKim pitched a perfect ninth inning, striking out two, and gave the Panthers the victory.
McKim pitched a complete game, giving up ten hits and striking out four, in gaining his first victory of the season.
Unkraut was charged with the loss, his fourth of the season.
"When it's time to get a clutch hit we don't, and when it's time to make a good play we don't," said Coach Asalon. "If we continue to do that, we're going to continue to struggle."
The loss leaves the team tied for fifth place in the Great Lakes Valley Conference, with a conference record of 11-11.
The Norseman play at Bluefield State on Monday, before facing conference foes Indianapolis, Bellarmine and Quincy this week.
"Everybody's down right now," said Asalon, "but a lot can happen in 60 games and we'll just keep plugging away."