Nappy Roots draws large crowd

Fran Mcqueen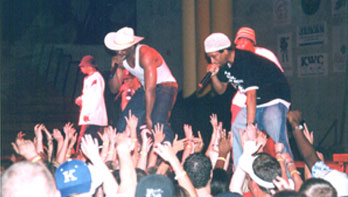 Fran Mqueen
It was immediately obvious from looking at the thick line of party-clad students waiting impatiently outside of Northern Kentucky University's Regent's Hall on April 15, that something was inside that building.
Something big.
That something responsible for the mob waiting excitedly outside the metal-detector secured entrance was national recording artists Nappy Roots.
The rap group performed before an energized crowd of over 300 after their DJ kicked off the evening's main event with a call to dim the lights, ignite all lighters and get ready for "Nappy Hour."
And that is just what fans did.
Arms flew into the air, sometimes pushing up lighters, and the bright glow created shock even among those participating.
That moment was short-lived.
Shortly after the butane-glow subsided, the stage erupted in noise and movement as the six members of Nappy Roots claimed the stage.
With the deafening beats and forceful rhythms blaring out of the stacks of speakers along the stage, heartbeats pounded irregularly throughout the gym, and the members of Nappy Roots jumped, danced and bounced around in between each other, shouting lyrics into the tangle of bodies gathered along the stage front.
While the concert was alive with energy and received well by the enthusiastic crowd, it was clear that certain songs stood out above others.
"Po' Folks," a popular radio clip that followed the sexually offensive yet humorous performance of "Headz Up," caused a unanimous cheer from the audience after just the first few notes were heard.
The rappers responded by dousing the crowd with bottled water they splashed into the air.
To that, the fans screamed their approval even louder and shouted the lyrics back to the six Louisville natives tearing up the stage.
The audience was alive and the gym was shaking through the entire set, a surprise to some students, such as sophomore Amy Nobbe.
"I didn't think there would be a lot of people there because I heard it wasn't sold out. But I liked it."
Nobbe, whose favorite Nappy Roots song is "Awnaw," thought the Music for the Masses event was a neat experience and would like to see more concerts at NKU, "perhaps Nelly."
The concert was organized by the Student Activities Board, and in addition to a majority of college students from the tri-state area, including University of Cincinnati, attracted both young high school students and middle-aged listeners.
In the end, the concert turned out to be more than "something to do on a Tuesday," as was said by Starcleasha Sims before the concert.
With an impressive turnout, the show left students walking away satisfied after several hours of delicious ear candy, from Battle of the Bands winners and opening band Payola to Forty Below, the rap group that warmed up the audience just before Nappy Roots took the stage.