'Lion' set loose in musical adaptation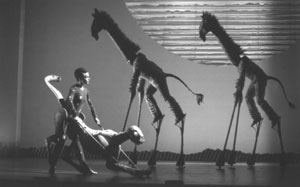 Dawn Noel Pignuloa; Cornelius Jones, Jr.; and Jeremiah Tatum in the opening number "The Circle of Life" from THE LION KING National Tour
From the sets to the costumes to the acting, Disney's theatrical production of "The Lion King" is spectacular.
Anyone familiar with the Disney, animated movie "The Lion King" knows the story this musical is based on.
Simba, a young lion cub and heir apparent to the throne of Pride Rock, is tricked by his evil uncle Scar into believing he was responsible for the death of his own father, King Mufasa.
Simba runs away from Pride Rock and lives the easy life for several years with two other outcasts, a meerkat named Timon and a warthog named Pumbaa.
The story has all the elements of a good Shakespearean tragedy. However, since it's by Disney and for kids, "The Lion King" contains a few good moral lessons and a happy ending.
Simba eventually comes to terms with what has happened and, through love, friendship and determination, goes back and reclaims his birthright.
The play contains every song from the movie plus eight additional songs, all performed with gusto by the extremely talented cast.
Each of the performers are terrific, but especially good are Patrick Page, as Scar, (who can inspire revulsion by a simple turn of phrase or tilt of his elongated lion's head mask) and Jeffery Binder, as Zazu, who plays the king's advisor, as a black-faced, vaudevillian comedian. (Don't ask; you've just got to see it).
As talented as the cast is and as wonderful as the songs are, it's the set and costumes that steal the show; a wondrous menagerie of African animals portrayed indescribably through puppetry and costumes, surrounded by a sparse, but incredibly effective set.
The costumes were designed by Julie Taymor, who was also the original director for the Broadway production.
In 1998, when the musical first premiered, she won Tony Awards for both. Richard Hudson, who was born in Zimbabwe, is the scenic designer and also received a Tony for his work.
The performance is approximately three hours long but is made up of 20 action-packed scenes that make the time move extremely quickly, even for the youngest of patrons.
I attended a Saturday matinee, which was full of kids, and heard not one complaint nor saw anyone get restless.
Disney's "The Lion King" is playing now through May 18 at the Aronoff Center for the Arts in downtown Cincinnati and although most performances are sold out, tickets can still be purchased through ticket agents.