Men's tennis clinches GLVC's top seed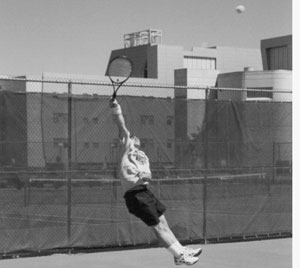 TONY REDELL
Amine Benjelloun improved to 17-3 in No.. 1 singles Saturday with a 6-4, 7-6 victory over Paulus Halim. The NKU men's tennis team wrapped up the No. 1 seed in the Great Lakes Valley Conference Championships with a 5-4 win over the University of Southern Indiana.
Benjelloun also upped his GLVC mark at No. 1 singles to 7-1 with the victory as NKU (17-3 overall, 8-0 GLVC) clinched the GLVC regular-season championship. Billy Hopkins posted a 6-2, 6-3 win over Ryan Hughes at No. 4 singles to improve his record to 18-2 this season.
Benjelloun and Hopkins also teamed up at No. 1 doubles for an 8-4 win over the duo of Paulus Halim and Daniel Halim. For the season, Benjelloun and Hopkins are 15-5 at No. 1 doubles competition.
NKU, which has won nine straight matches, will be the No. 1 seed at this week's GLVC Championships in Indianapolis, Ind. The Norse will be seeking their first GLVC Championships title since 1990.
Southern Indiana, now 8-8 overall and 6-2 in the GLVC, will enter that event as the four-time defending champion.
Article by Sports Information