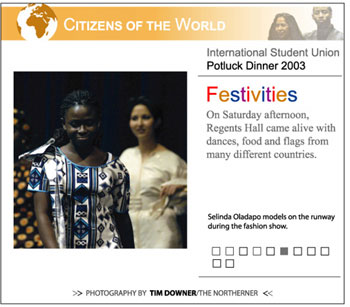 Check out the special ISU Potluck Slideshow here
'Dive into Diversity' was the theme of this year's International Student Union Potluck, held last Saturday evening in Regents Hall. More than 400 people attended the annual showcase of international cuisine and culture, with more than a third of the gymnasium showcasing food from around the world.
The after-dinner entertainment was appreciably diverse. Professional dancers from the Arthur Murray Dance Studio demonstrated dances from across Latin America on behalf of the Latino Student Union, and Shawna Clarke and Cheveau Brown performed a rousing Jamaican dance.
Dimitri Shelest played Chopin's "Prelude #24" on piano and accompanied Hisae Kawamoto, who sang Schubert's "Ave Maria." Ebere Chukwunyere and Frederick Essien got funky with an African Makooussa dance.
Magadalena Markus, Maria Yanez, Kathy Espinosa and Anamika Soni floated gracefully through a Spanish dance.
Everyone in the hall joined arms for Annette Fournier's traditional Swiss drinking song, "Es Burebuebli," bending and bouncing and swaying to the ever-quickening pace.
The Association for African Charities performed a choreographed routine to African Gospel music, and "Mr. T," Emmanuel Ayanrinola, sang and rapped a self-written piece while playing the keyboard.
The students presented a fashion show parade of clothing from Africa, Asia, Europe and Central and South America.
Dr. Thomas Rambo of the biology department, who spent his youth in India, was guest speaker.
He related the reservations and fear he had about coming to the U.S., and reflected on how violently the U.S. portrays itself in its "number one export," movies. Rambo spoke of the isolation he experienced when he arrived in this country, but also of the hope and comfort groups of similar and international people have brought him.
"Look around you," Rambo said. "We have a family."
He told the audience to take heart in these troubled times, adding that those who transcend, and work across national and cultural boundaries, are "the peacemakers".
After the event, ISU spokesman Abdul Kazi echoed Rambo, speaking of group's dedication to multiculturalism and its opportunity of "spreading peace."
Kazi said he was very pleased with the event, and attributed the program's success to the efforts of seniors Anamika Soni and Burhan Mohemmedali.
Sophomore Dan Robinette, the current U.S. representative in ISU, said the potluck was very good this year.
He urges more U.S. students to get involved with ISU if only for the "greater understanding" it brings.