Campus news briefs II
Hang on for a minute...we're trying to find some more stories you might like.

Northern Kentucky University will award Charles Whitehead, president of Ashland Inc. Foundation with the twelfth annual Lincoln Award April 22.
The award is given to individuals who have a tremendous and positive influence on their community and the people who live there, and who exemplify the qualities of outstanding citizenship, notable achievement and distinguished service in their profession, and contributions to their community, according to a press release from the university.
Whitehead has held several offices with the NAACP including treasurer of the National NAACP Special Contributions Fund.
He has served on Kentucky's Council for Postsecondary Education, the Kentucky Enterprise Zone Authority.
He also sits on the board of directors for United Way, Community Chest of the Greater Cincinnati area, and the National Underground Railroad Board of Trustees, among others.
The ceremony is scheduled to begin with a reception at 6:30 p.m. Dinner and the awards ceremony will begin at 7:30 p.m.
For tickets call (859)-572-5810.

About the Writer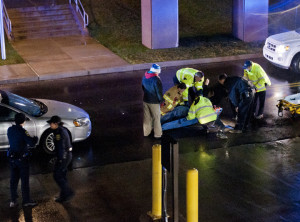 Staff Report, The Northerner
A male pedestrian was hit at approximately 8:45 p.m. Nov. 29 on Kenton Drive between Griffin Hall and Kenton Garage.

At the scene shortly after the...