Campus creativity overflows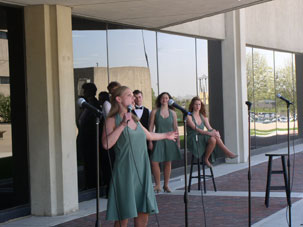 TONY REDELL
The Northern Kentucky University campus was teeming with artistic and intellectual expression this week as nearly 300 students showcased a wide array of artistic, oral, poster and interactive presentations during the Celebration of Student Research and Creativity.
At the opening ceremony Monday afternoon, NKU President James Votruba said the event embodies NKU's goal to remain a learner-centered university by providing the opportunity for interaction between faculty and students.
The Celebration shows that "faculty and students can get together and do magical things," Votruba said.
Some of the magic included a photographic exhibit by Liz Wartman acknowledging the wisdom and independent personalities of the elderly.
Another presentation entitled "Fugitives Face Fear, Famine and Fate" by Emily Powers outlined the hardships of American slaves in the 1800's; and a poster presentation by senior Biology majors, Robin Barnes and Becky McClatchey summarized their efforts to study and increase the diversity in a Belize marine reserve.
The Celebration is as much a learning experience for faculty who mentored the students as for the students themselves, said Rogers Redding, vice president for Academic Affairs and Provost.
He added that the event provides an opportunity for students to expand their horizons and gain in-depth knowledge that will help prepare them for the future.
Redding said the Celebration is "a signature of the NKU experience to involve students" and said the event is a "hallmark of the University."