Enlistee joined on instinct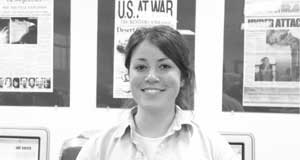 D.J. Carter
As the semester draws to a close, many graduating seniors lose interest in their classes and their minds drift to thoughts of finding a "real" job or taking a post-graduation trip.
Victoria Kelli Baumgarten said she also has a hard time keeping her mind on schoolwork, but, unlike most of her classmates, she is thinking about her Army basic training after May's graduation ceremony.
In July, the senior journalism major will report to boot camp at Fort Leonard Wood in Waynesville, Mo., for eight weeks.
Then she will go to Arizona for a 20-week counterintelligence training program, where she will learn interrogation skills and decoding techniques, distinguishing false enemy intelligence and at least one language.
Baumgarten made her decision to enlist during the buildup to war with Iraq, but she isn't sure peace can be achieved through violence.
"I'm extremely liberal," said Baumgarten, who writes horoscopes for the Northerner. "To be honest, I voted for [Al] Gore because he's an Aries, one of my favorite signs."
"I don't know how I'll fit in," said the 22-year-old. "I probably won't."
Baugarten, who admits that she is "quirky," first became interested in the military as a teenager when she visited her cousin at Air Force boot camp.
"I just liked the aura that I got from the base," she said of the visit. "Things felt productive."
The Louisville native said she began thinking seriously about joining the armed forces last year as her interest waned in the career choices offered by her degree.
"I'd rather create news than report it," she said.
During Christmas break, Baumgarten tried to visit an Air Force recruiter, who had apparently stepped out.
Instead, she stopped by a nearby Army enlistment station, and decided to join after hearing their recruitment pitch.
"Joining the corporate world and even being a journalist wasn't appealing to me," Baumgarten said. "I don't like money, so I wanted to work towards something bigger than myself, and not just a paycheck."
Baumgarten also views her five-year commitment to the Army as a personal challenge. "I hope to reach a point where I know my potential," she said. "I haven't been put to the test. I need another challenge besides school and, when I get out, I'll know that I contributed."
Her commitment became official on Jan. 17, when she took the oath of service before the American flag.
"That was when I knew there was no going back," Baumgarten said. "This kid in front of me was like, 'Does anyone else feel like crying?'"
"It's not like a normal job," she said. "It's not like you can just quit."
Since the war began, Baumgarten said she has tried to avoid coverage of the war, and tries not to participate in class discussions on the topic.
"I don't know what's true," she said of media coverage, particularly television. "I'm hoping to get more insight once I'm on the inside."
She said she isn't afraid of the dangers of war.
"I'm not afraid that I'll be killed," she said. "I'm afraid that I'm going to go in and not be able to cut it at boot camp."
Baumgarten said that, while she believes that the White House has "inside information" that justifies going to war with Iraq, she doubts that Saddam Hussein's government had a role in the Sept. 11 terrorist attacks.
"I think the U.S. is responsible for terrorism, in a roundabout way," she said. "You cause your own destruction. [Iraq] might be responsible, but people don't just lash out unless they've been attacked."
Baumgarten describes her motivation for joining the Army as "more of becoming a soldier instead of fighting for the United States – more discipline and self courage, rather than patriotism."
"Just because I'm not 100 percent patriotic, I don't think that will hinder my performance," she adds. "It would be my duty to perform. You don't have a choice."
As a soon-to-be-soldier, Baumgarten rejects the notion that those who oppose the war are unpatriotic or unsupportive of American troops.
"Everybody's entitled to their own opinion," she said. "If that's what you believe, you should express it.
People who try to censor voices are just burning the Constitution with every person they try to silence. That's what we're fighting for. That's what this war is about."
Baumgarten compares her decision to join the Army to the one she made to attend NKU. She said she visited the Highland Heights campus on a whim and decided to enroll that day.
"I make decisions and I just stick to it," she said. "I want to be the best soldier, and I don't want to fall behind. I want to come out with a clear understanding of purpose."
Baumgarten said she is unsure of her long-term goals after serving in the military, stressing that she prefers to make only short-term plans.
If she doesn't stay in the Army, her goals include learning to play saxophone, owning a motorcycle, learning martial arts and possibly teaching.
"I think it would be cool to drive up to school on my motorcycle," she said, "and when the kids are learning musical instruments, I could learn saxophone as well."
Baumgarten said some people don't understand why she's joining the Army.
"I've been called crazy for joining," she said. "Especially since I'm not in total agreement. And my answer to that is, I probably am. Rational people bore me, anyway."