'State' rocks the theater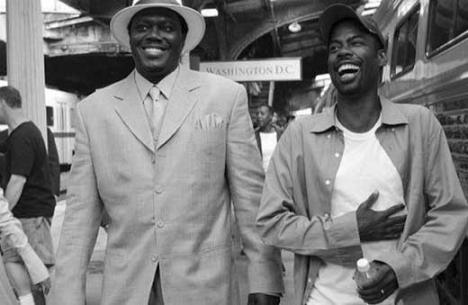 Have you ever wanted to make a difference or have your voice heard? Or let the American people know how you think and what your solution is for violence, crime and taxes? Run for President. That's the extreme Chris Rock went to in his new movie "Head of State."
Mays Gilliam (Rock) is an Alderman for his small neighborhood in Washington, D.C. He is the "problem" man. The man everyone goes to when something is wrong in the community. He is an honest and courageous person. He is just the man the United States government is looking for.
After a fatal plane crash involving the candidates for President and Vice President for 2004, the election campaign is looking for a gullible substitute to run against the opposition. With every intent of the opponent Brian Lewis winning, the campaign team picks Gilliam as their man after he is recognized for saving an old woman and her cat.
After Gilliam's girlfriend leaves him, his car is repossessed and he loses his job, opportunity comes knocking. Gilliam agrees to the offer, however, he is under the control of the campaign team until his big brother Mitch (Bernie Mac) gives him a reality check.
With his true character shining through, Gilliam turns his campaign around. With a few ups and downs and bumps along the way Gilliam has one week left until elections, and has to face one more obstacle-the presidential debate. With Mac as his running man and a newfound confidence, Gilliam's debate is one the people will remember, but will he get enough votes? You'll have to watch and see.
Rock and Mac create a hilarious team of "professional" speeches and attitudes. These two really compliment each other and with their intelligent and clever humor you'll be wanting more long after you leave the theater.
Rock has always been a well-known comedian along with Mac. They both do stand-up comedy and star in comic movies like Rock in "Beverly Hills Cop II" and "Bad Company." Mac took a more serious role in "Ocean's Eleven," but came back to his old self in "Charlie's Angels: Full Throttle." Both men are known for their television shows as well, "The Chris Rock Show" and "The Bernie Mac Show."
The movie is a little far-fetched and confusing at times, but it is good to see if you're just looking for a fun plot with some easy humor. The directing, done by Rock, is easy to follow and easy to enjoy.
Overall, this movie is a good date movie, friend movie or even parent movie.
It will make you laugh, it will make you think, it may even make you want to make a difference in your community, or country.