Glitches riddle database that tracks foreign students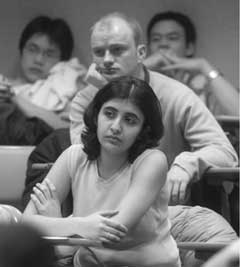 ZBIGNIEV BZDAK/Chicago Tribune
The computer system intended to track international students as part of the nation's stepped-up security routinely loses sensitive information about foreign students and faculty, according to university officials throughout the country.
Gaffes in the $36 million Student and Exchange Visitor Information System, or SEVIS, have also left schools unable to print documents that international students and visiting scholars need to obtain visas, delaying their entry into the country.
Remarkably, universities trying to print documents for their visiting scholars through the SEVIS program operated by the U.S. Department of Homeland Security have had those papers appear on printers at other campuses thousands of miles away.
And in an incident creating concern in academic circles around the country, a student from Thailand attending Southeastern University in Washington was arrested March 12 by federal agents after the SEVIS database incorrectly listed her as having dropped out, university officials said.
"We are very concerned about this kind of precipitous action, especially during the time that the database is getting the kinks out of it," said Charlene Drew Jarvis, Southeastern president.
Federal officials could not be reached for comment about the incident.
Flaws in the federal government's ability to track the approximately 500,000 foreign students who come to the United States each year to attend school surfaced after two terrorists involved in the Sept. 11, 2001, attacks received approval for student visas six months later.
As part of a congressionally mandated system to track international students, SEVIS was rolled out in January, with schools required to use the system exclusively by Feb. 15.
SEVIS, developed for the government by Electronic Data Systems Corp., for the first time will link schools that admit foreign students with federal agencies. It will provide an instantaneous exchange of information.
SEVIS is designed to replace a tracking system riddled with errors and fraud. The U.S. Immigration and Naturalization Service had conceded that it had all but stopped monitoring more than 70,000 schools and institutions empowered to admit foreign students.
Chris Bentley, a spokesman for the Bureau of Immigration and Customs Enforcement, which replaced INS and oversees SEVIS, acknowledged that the computer network "is not a perfect system."
Bentley said the agency decided to roll out SEVIS during the relatively quiet spring semester so glitches could be identified. He said officials remained "fully confident" SEVIS would be ready for fall semester, when the bulk of new international students need records processed.
University officials say that in the month since it has been compulsory to use SEVIS to track international students, staff members have spent untold hours trying to resolve data-entry problems.
"I think the system is just overwhelmed," said Ravi Shankar, director of the international office at Northwestern University. "We just hope they do something about it."
The officials also fear it's only going to get worse in coming months, when hundreds of thousand of students seek entry to study in the United States and a similar number of graduates seek to stay for postgraduate studies or training.
University officials say much of their frustration stems from the lack of flexibility in the SEVIS system.
In the case of the Southeastern University student, university officials say the matter could have been avoided if SEVIS had allowed the university to fix the student's record.
Southeastern's Jarvis said the school noticed in December that the student's record erroneously showed she had dropped out. But Jarvis, who declined to identify the student, said the school's attempts to correct that record were blocked.
Jarvis said at 8 a.m. March 12, federal agents appeared at the young woman's house and during their interview learned that she was working part time at a restaurant.
Although education officials say that employment outside a university without permission is a potential violation of a student's visa, they say it's unlikely it would lead to an arrest.
Jarvis said the student was led away in handcuffs. She has since been released.
"You can't fight terrorism by terrorizing the students," Jarvis said.