Pace, Fegan announce candidacy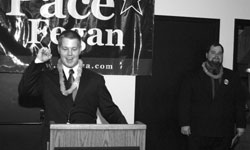 Amid hanging paper palm trees and Jimmy Buffet music, two Student Government Association members announced last Wednesday night they were running for the top two positions in SGA this semester.
Chris Pace, a current SGA senator, is running for President on a slate with Eric Fegan, the current Vice President for Administration. Fegan is running for Executive Vice President.
They made their announcement in the University Center television lounge, which was decorated as a "beach party."
Fegan laid out the pair's goals if elected.
"We want to monitor tuition and fees and make sure that every dollar [you spend] goes toward something good and something that's going to make a lasting effect towards student government, towards this university," said Fegan.
Earlier in the day, the Board of Regents approved a 16.4 percent tuition increase for resident, full-time undergraduates to help offset state budget cuts and reductions.
"Right now our university is $26 million underfunded," said Fegan. "[The state is] not giving us that money."
"They expect us to raise your tuition."
Fegan said they also want to create an all-student parking appeals board to cut out the hurdles of the current appeals.
It's a system Fegan may use himself.
"I lead the league with 19 parking tickets this year," he said.
Fegan said they also want to bring Greek housing to NKU within three years.
"We're going to work with all the fraternity and sorority chapters to try to put a task force together, and we're going to go to the dean and tell him how we want Greek housing," he said.
Fegan said there are several options for housing including traditional Greek housing and Greek dorms.
Whatever is chosen, Greek students will have to pay room and board or another fee to live in the houses.
Pace also said he wants more people involved in SGA.
"We want to reach out to those students who haven't been reached before," he said.
"We will fight tooth and nail for the students every time."
In an interview before the announcement, Pace said he and Fegan wanted to increase the number of students who vote for SGA candidates.
"In the past it's been a problem that only about 700 out of 14,000 students vote," he said. "Our goal is to reach out to non-traditional students and others not involved in the SGA."
Pace and Fegan are the first candidates to run on a slate since an amendment was passed last semester allowing candidates to do so.
Fegan said the slate helps provide ideological diversity.
"It's the yin and yang that it brings," he said.
Fegan said he and Pace don't always agree on things and have argued over different issues, but manage to work things out.
Pace is a student at the Salmon P. Chase College of Law. He graduated with a bachelor's degree in political science from Eastern Kentucky University where he also served as student body president and regent. He has served on NKU's senate for the past two years.
Fegan is a sophomore majoring in Finance with a minor in Business Administration. He is a member of the Pi Kappa Alpha Fraternity.
Elections will be held April 16 and 17 in the University Center.
Out of 40 positions on the SGA board, candidates will be running to fill five executive positions, half of the Senate positions and half of the Judicial Council.
Bryce Rhoades, chief justice for SGA, said any student is eligible to vote, but students who wish to run for a position in the SGA must meet a few requirements.
"Students running for President or Vice President must have a GPA requirement of 2.0 or above and must have served at least one semester in the Student Government," he said.
"Students who are looking to vote should take the time to see which candidate agrees with what [they] want to say and hold [their] same beliefs and values."
Lindsay Hunter, of the Residential Hall Association, also announced she was running for SGA Senate.