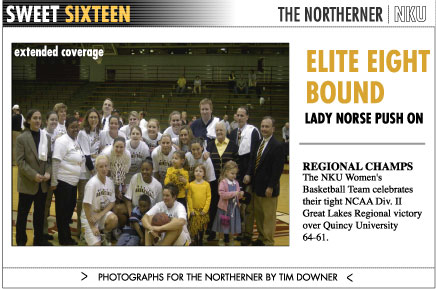 INDIANAPOLIS – From every conceivable angle, they were gone. Not just simply beaten, but flat-out overwhelmed.
It was halftime of Monday night's NCAA Division II Great Lakes Region championship game, and Quincy University owned a 36-21 lead over Northern Kentucky University. The Lady Hawks had held the Norse to just 29.6 percent shooting from the field, won the rebounding battle by a whopping 28-13 margin and were preparing to make reservations for the NCAA Division II Elite Eight, a prize that awaited the winner of Monday's contest.
The Norse – playing without powerful inside presence Sharell Snardon, who was out with an injury – appeared to be 20 minutes away from calling it a season.
Instead, they awoke. Maybe it's the mammoth tradition that's been built during the past 28 years, or perhaps it's just a matter of just refusing to fold in clutch situations in the postseason.
Whatever it is, NKU pulled off one of the greatest comebacks in the history of its storied women's basketball program, and it is the Norse who are now making reservations for St. Joseph, Mo., and the NCAA Division II Elite Eight.
Bridget Flanagan's basket with 22 seconds remaining snapped a 61-61 tie and lifted NKU to an improbable 64-61 win over Quincy. It marked the fourth time in the past five years that the Norse – who stunned top-seeded University of Indianapolis on Saturday – have captured the NCAA II Great Lakes Region title and earned a berth in the Elite Eight.
NKU – which trailed by 16 points early in the second half – used a 19-2 run to take a 40-39 lead on a three-pointer by Amy Mobley with 12:25 remaining. Quincy eventually took a 57-52 lead with 3:32 left, but NKU used a 9-4 spurt to tie the game at 61-61 on a layup by Mobley.
After a Quincy turnover with 53 seconds left, Flanagan missed a jumper that was rebounded by Mobley. Her short stick-back attempt rimmed out and was rebounded by Flanagan, who powered her way for the go-ahead basket with 22 seconds remaining.
Mobley intercepted a Quincy pass in the paint on the Lady Hawks' next possession and found Jessica Brock streaking the other way. Brock was fouled with nine seconds left and converted one free throw to extend NKU's lead to 64-61.
Quincy called timeout with 5.5 seconds left to set up a three-point attempt, but Tiffany Kelver's running shot from beyond the arc bounced off the rim.
"I don't know if I've ever seen one of my teams make a comeback like this one, and what a way to win a regional championship,' NKU head coach Nancy Winstel said. "Quincy owned the first half and looked ready to run us out of the gym, but our players stepped up and showed why they are champions."
Mobley, a graduate of Harrison High School who finished with 19 points and five steals, was named the tournament's most valuable player. Mobley also had nine rebounds and five assists.
"Amy has played on a national championship team, and she came up big at the end," Winstel said. "Bridget Flanagan also made a huge play with the offensive rebound and layup, and our experience in the NCAA Tournament helped a great deal at the end."
Kristin Polosky added 13 points for NKU, which trailed 36-21 at halftime. Connie Myers added 11 points and six rebounds for the Norse, who will travel to St. Joseph, Mo., to play Washburn (Kan.) University at 4 p.m. on March 26 in the Elite Eight.