Wilson and Ferrell hilarious in 'Old School'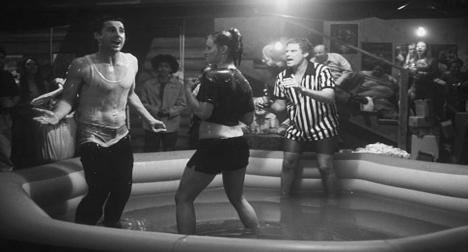 In 10 years what will we be doing? Planning a wedding, having a family, perfecting our career?
Or, maybe, trying to relive our college years through wild parties, crazy pranks, and made up organizations.
Well that is exactly what the trio in the new comedy "Old School" is trying to do.
Luke Wilson, Will Ferrell, and Vince Vaughn come together in this hilarious story of men in their early 30's playing the college scene, not by furthering their education, but by advancing their social life.
After a failed relationship, Mitch (Wilson) moves into a house by his old college campus.
Now living in this new locale, Mitch's two friends Frank (Ferrell) and Beanie (Vaughn) decide to turn his bachelor pad into a fraternity house.
With this new-found fun and their first party being a huge success with Snopp Doggy Dogg on the guest list, the men quickly become a hit among the current students.
With leaders Mitch as "the Godfather," Frank as "Frank the Tank," and Beanie as the technology fanatic, the fraternity begins to take form.
The guys "carefully" select their pledges and initiate them with wild, sidesplitting stunts that will make you fall out of your seat with laughter.
The college fun of KY Jelly wrestling and streaking through the streets will make you wonder why your college life isn't this crazy.
When Dean Pritchard, a university administrator. gets wind of this organization he does anything he can to put an end to the madness. The conclusion is a charter review where the guys have to successfully complete a competition in four subjects at the university.
All three men mesh well together in the movie and all have their amusing moments. You may remember Wilson in "Home Fries," "Blue Streak," or "The Royal Tenenbaums" while Will Ferrell is best known for his role on the cast of "Saturday Night Live."
His film debut was in "A Night at the Roxbury" followed by "Jay and Silent Bob Strike Back," and "Zoolander."
Vince Vaughn has been seen in more serious films such as "Domestic Disturbance" and "The Cell."
However, when these men get together their true senses of humor come out in unpredictable ways.
Despite a sometimes lame script this movie provides some good laughs.