Students rally to protect college funding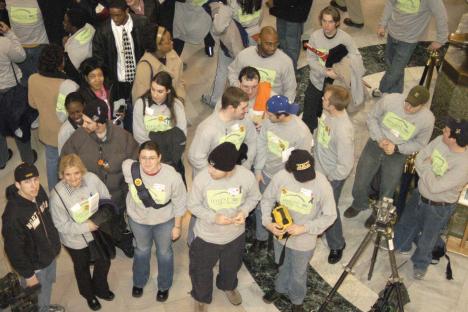 Tim Downer
Tim Downer
A roar of "Keep your promise, keep your promise," echoed through the capitol Thursday in Frankfort. It was the sound of students holding their state legislators accountable to their professed dedication to education in tight financial times.
Sixty NKU students and 15 NKU staff members converged on the capitol to lobby and rally for funding for NKU and Kentucky higher education.
Students from Morehead State, Murray State, Eastern Kentucky, Western Kentucky, UK , and Louisville joined them.
The event, headed by the Kentucky Board of Student Body Presidents, was organized by students.
"We gave our push" said Eric Fegan, Student Government Association Vice President for Administrative Affairs. "We had about as many students as other schools combined," he said.
SGA president Katie Herschede was "completely pleased."
"We had active [delegates], who were very informed and able to clearly articulate NKU's position," she said.
The students met personally with many legislators throughout the day.
Fegan was one of the students who met with members of the Northern Kentucky Caucus.
He feels that they will support NKU and can be counted on for funding. He said not everyone was as accessible as the caucus members and that it was especially difficult to get into the legislature.
Freshman Adam Bass said he learned a great deal about how politicians can be more effective by choosing to be open and accessible.
He compared a senator who was cordial and interested to one who paid them half attention and hurried them away with a harsh, "It was nice to meet you."
Bass said that, after the students' work, "… many senators were wearing NKU pins. They seemed sincere about funding higher education."
The university groups all came together in the rotunda for a rally and press conference. The students cheered and chanted.
Murray State broke out signs and flags.
Jamie Sears, Western Kentucky's SGA president, introduced the resolution passed by the Board of Student Body Presidents Feb. 1.
The resolution called legislators to hold postsecondary education 'harmless' in the 2003-2004 budget. Each student body president signed the resolution.
Herschede argued against cuts and celebrated the event and the students' efforts.
Northern Kentucky representatives Rep. John Draud and Rep. Jim Callahan, who Herschede recognized as "friends of NKU", addressed the group.
SGA plans to follow up the efforts with a correspondence campaign.
Herschede said they are compiling the phone numbers, emails, and fax numbers of the legislators on the conference committee that will have a hand in producing the state budget.
Both proposed budgets from the state house and senate contain cuts to NKU and higher education.
Herschede encouraged students, faculty, and community members to contact these legislators and pressure them to keep the cuts low. She is emphatic that nothing is for certain yet, but said the predicted NKU tuition increase of 18 percent is not unlikely.