Men clinch No. 3 seed in upcoming GLVC tourney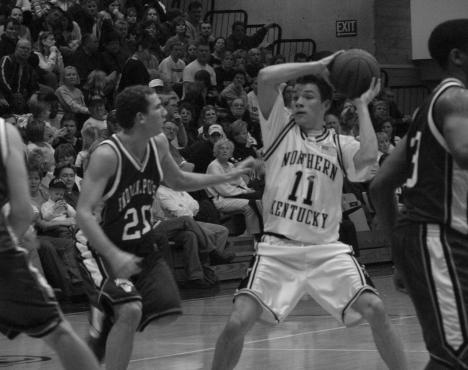 Tim Downer
Quentin Smith scored 19 points, grabbed 10 rebounds and made two key free throws late in the game Saturday afternoon as Northern Kentucky University defeated Lewis University, 76-72, at the Neil Carey Arena.
NKU held a 72-69 lead in the final minute when Randy Wright attempted a game-tying three-point shot. Smith grabbed the rebound of Wright's off-target jumper and was fouled with 23 seconds remaining.
Smith converted both free throws to extend NKU's lead to 74-69, but Monta McGhee responded for Lewis by hitting a three-pointer with 15 seconds left to slice the deficit to 74-72.
After Brenden Stowers made one of two free throws with 10 seconds remaining to give NKU a 75-72 advantage, Lewis' Stan Strong launched a three-point attempt that was off target and rebounded by Mike Kelsey with one second left.
Kelsey, who scored 18 point, made one free throw to seal the victory for NKU, which improved to 22-5 overall, 16-4 in the Great Lakes Valley Conference.
The Norse also snapped the Flyers' 15-game home win streak and clinched the No. 3 seed in the upcoming GLVC Tournament.
NKU will meet sixth-seeded University of Wisconsin-Parkside (13-14) in the first round at 3:30 p.m. (EST) this Thursday at Roberts Stadium in Evansville, Ind.
Bobby St-Preux added 15 points and five rebounds for NKU, which is ranked No. 13 nationally in the NCAA Division II poll. Stowers finished with 12 points and five assists as the Norse defeated Lewis (21-6 overall, 14-6 GLVC) for the seventh consecutive time.
Austin Real paced 16th-ranked Lewis with 19 points and nine rebounds. The Flyers took a 38-37 halftime lead by shooting 57.7 percent in the first half, but NKU countered during the second 20 minutes by converting 60.9 percent of its shots from the field.
Jesse Rupe added eight points for NKU, which finished in a second-place tie with the University of Southern Indiana in the GLVC standings. Southern Indiana earned the No. 2 seed, however, due to its two wins over NKU this season.
NKU is ranked No. 4 in the latest NCAA Division II Great Lakes Region poll, while Lewis is No. 5. The top eight teams in that poll will advance to the NCAA Division II Tournament in March.
Article by Sports Information