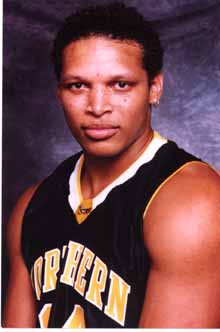 Tim Downer
EH: You used to play for the University of Pittsburgh. How happy were you to see them lose to the University of Notre Dame and Seton Hall? CS: To be honest it makes me happy every time they lose.
EH: Is there a reason why you're happy every time they lose? CS: I just left there on bad terms with the coach. I have nothing against the players, just the coach.
EH: Do you think Pitt would win it all if you were still on the team? CS: I'm not saying that. I think they would be a decent team if I was still there.
EH: Do you like Cincinnati cops better than Pittsburgh cops? CS: I think they are about even. I think both of them are pretty shitty.
EH: Which teams will be in the Final Four in New Orleans come the end of March? CS: Arizona, Kentucky, Oklahoma and I'll pick a Big East team, Syracuse.
EH: Who do you think will win it? CS: Kentucky might win it.
EH: Who would you rather play one-on-one with: J-lo or Beyonce Knowles? CS: J-Lo. I'd just like to get up on her butt or something. Just feel her.
EH: What does it feel like every time you see the life-size cardboard cutout of yourself around school? CS: People have knocked my head and legs off of them, but (someone) taped them back on. Someone even stole the one out of Norse Commons. I think people don't like me because of all the damages to it. I guess I'm a hated man.
EH: Teammate Sean Rowland claims he did not get a Hummer from his mother in high school like Lebron James. Did you? CS: No, I got a teal green 1994 Cherokee. It was a good car.