Members of Fizzgig get schooled here at NKU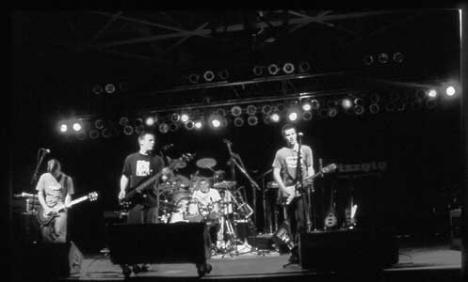 As members of the band Fizzgig, NKU students Evan Brass and Garry Zink have accomplished many things. They have released two CD's, performed in several states across the U.S., and, in 1999, finished as one of the top 16 bands in a national contest held by Rolling Stone Magazine.
Brass and Zink, along with NKU graduate Dan Schwartz and Eastern Kentucky University graduate Mike Paolucci, have been playing together for nine years, and they have successfully made their mark as one of the best local bands in the tri-state area.
Brass, a classical guitar major, and Zink, a marketing major, met at a church group in 1994 while still in high school. They teamed up with friends Schwartz and Paolucci and started practicing soon after, but they hit one little snag.
"We didn't have our drivers' licenses yet," explained Zink. "Our parents had to drive us to practice."
The band played for the first time, at a church talent show. "We were pretty bad," said Brass, "Garry had to learn three chords just to be able to play the songs." After the show they realized the excitement of playing on stage, and continued to practice.
Nine years worth of practice later, the four are still together, only now, instead of playing for fellow students at a talent show, people pay to see them perform almost every weekend.
Fizzgig released their first album "Orange" in 1999 and attention began coming their way. "We started playing shows in different bars and clubs around town after that," said Brass, "and started working with a manager who got us involved in this contest."
Fizzgig entered into the Rolling Stone/Ernie Ball Battle of the Bands concert, and was chosen as finalists out of 5000 bands from the U.S. and Canada. The band traveled to perform in Dallas, Texas, where they finished fifth place overall in the entire nation.
"Before the contest, we were really just having a lot of fun playing shows," said Brass. "After that, though, we really started to realize that we might be able to succeed with this."
Fizzgig has also won the University of Louisville's Battle of the Bands in 2000 and 2001, and their music has appeared on the "Our Music" compilation CD, released in late 2000. They also plan to be in a battle of the bands at NKU next month.
Fizzgig, who has played with almost every band on the Cincinnati music scene, can be seen performing around campus on occasion. They have put on two shows in front of the University Center on campus, and played at Regents Hall last year with Blessid Union of Souls.
They released their second CD "3 Word Title" late in 2001, which further advanced Fizzgig's reputation in this area. "When we first started we had to play a lot of nights where a lot of people weren't out," said Zink, "but, once the owners of the bars started seeing us bring people in, we now play almost every weekend."
They have even gained some interest from record companies in Europe. "We did have some people from Germany interested in signing us," said Brass, "we just haven't heard back from them in a while."
Fizzgig wants to spark more overseas interests , and hopes to travel to either Germany or England by the end of the year. Besides performing in Europe, Brass says that one of his goals is to be able to perform on his favorite television show "Late Night with Conan O'Brien."
Although they've jokingly said they have no idea what they're doing, the members of Fizzgig must be doing something right in order to have reached this level of success.
Their original songs highlight two CDs that have sold over 600 copies and Fizzgig's live show is one of the most entertaining in the area, as evidenced by crowds ranging from 100-300 people per show.
You can check out the band on their website, www.fizzgigonline.com, and see a live performance almost weekly in the Greater Cincinnati area.
This band can entertain audiences with creative originality each time they take the stage, just as it says on their website: "Sometimes fast, sometimes slow. Sometimes loud, sometimes quiet. Always powerful,"