dj- X's Week in Review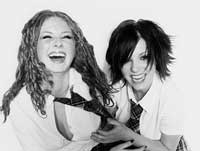 photo courtesy of tatugirls.com
Pick of the Week: the Vines "Highly Evolved" The Vines bring a raw sound of rock unheard for quite a while and use the infamous power trio format that made bands like Cream and the Jimi Hendrix Experience so famous. Now don't misconstrue my words. I am not putting the Vines anywhere near those bands, but the formula is infallible. An overzealous lead guitarist, foundation bass player, and rough drummer are all that truly is required for success. If you are into non-stop party rock, and just wanna bounce around like a pinball, these are the guys for you. A fun-loving sound that just makes you wanna get up, jump around and "Get Free."
Gotta have it: T.A.T.U. "200 Km/H in the Wrong Lane" Girl rock is not dead, it's just lesbian. Not only that, but from the cold depths of Russia. T.A.T.U. have stormed on the scene like a Siberian winter. Hard and edgy and pushing the boundaries of social taboo, their first single "All the Things She Said" has not only hit MTV and the infamous TRL, but has made its way into the world of professional wrestling. The WWE has chosen to use the song for their slightly crazed and current women's champion, Victoria. This is the kind of exposure that any band would want, the opportunity to have your song played once a week to millions of people all around the world. Who wouldn't want that? These girls will make quite a splash in the music biz. I just hope the public doesn't let their lifestyle overshadow their music because these chicks rock.
Old School Pick: Lynyrd Skynyrd "20th Century Masters" When you think southern rock only one band comes to mind, Lynyrd Skynyrd. These were the boys that made you glad to be a redneck. If you weren't, however, you could at least feel the message. They may not have been the most politically correct band out there, but Skynyrd could rock. This album is the perfect compilation of 10 of their very best songs. In all, it's the music your parents knew and admit it or not, so do you. Everyone knows "Sweet Home Alabama" but there was much more. On the down side, this album is missing "Tuesday's Gone," no Metallica was not the first to record it. Other than that, the album best showcases the sound of the greatest southern rock band of all time.
I'm out for now, till next time.