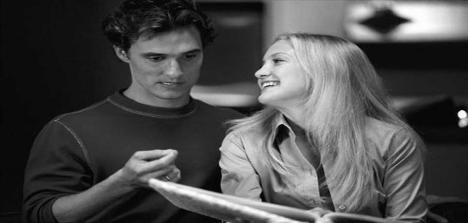 In the crazy dating world there are so many do's and don'ts that often relationships can go from bad to worse with the couple wondering what went wrong.
Maybe if these people had some simple advice, read an article or perhaps seen a movie, they could figure it out.
Meet Andie Anderson, the classy yet tough, "How To" girl for the fashion magazine Composure.
Anderson has volunteered to take on a simple assignment to please her superficial boss.
After her co-worker and friend was dumped and left broken hearted by a guy, Anderson's next "How To" article becomes, "How To Lose a Guy in Ten Days."
Anderson's goal is to get a guy and drive him away doing everything girls do wrong in relationships.
Benjamin Barry is a laid-back, flirty type guy who works for Warren Advertising. He makes a bet with his boss, along with his friends, that he can make any girl fall in love with him in ten days.
His prize is a promotion and control of the big project coming up at work.
Both people are now in search for an unsuspecting victim to use as their own temporary love match. However, in the end, it may be more than temporary.
Kate Hudson, plays a great Anderson along with her perfect opposite Matthew McConaughey, Ben Barry.
Hudson has been seen in other films such as "Almost Famous" and "200 Cigarettes" to name a few.
And McConaughey has starred in "Spy Game," "The Wedding Planner," and "Dazed and Confused."
Both characters seem to click on the screen and really set the other one off. Both play strong and confident roles that blend well together for a hilarious and enticing movie.
The film is so full of energy that I have nothing but good things to say about it.
So many people can relate to this plot and story line that men and women of all ages will love to see it.
I personally like all types of movies: funny, romantic, suspense, drama, etc.
I thought this was absolutely great. It isn't exactly a chick flick; guys would definitely laugh out loud and feel for Barry as his life is turned into a feminine wasteland.
This is a good date movie or even for friends to go see.
There isn't a bunch of sappy love story elements, really just more comedy and fun.
So guys don't count this out, there may even be a few things you can learn.