Glitz, glamour and murder all found in hit movie Chicago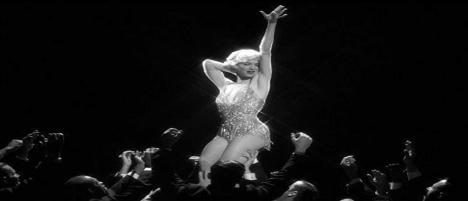 Glitz, glamor, murder…and all that Jazz.
Set in the roaring 1920's, the stunning "Chicago," the big screen adaptation of the 1975 Broadway Musical, tells the story of Roxie Hart (Renee Zellweger), a young woman who dreams of being a famous jazz-singer.
When Hart finds out that her lover lied when he promised to make her a star, she murders him and gets sent to death row. However, she convinces her husband to hire Billy Flynn (Richard Gere), Chicago's smooth-talking star attorney who claims he can win any case for $5, 000.
Hart is joined on death row by her snooty jazz-singer idol Velma Kelly (Catherine Zeta-Jones), who ended up there by murdering her husband and sister, who were also her partners in her jazz act, after she catches them having an affair.
Kelly had already enlisted the help of Flynn, but is quickly forgotten by the public when the newspapers start writing about Hart.
An array of Hollywood's biggest names help to bring this story to life, and all of them are extremely well-cast for their roles.
Zellweger, who has already won a Golden Globe for best actress in a musical or comedy, perfectly portrays Roxie Hart, a former chorus-line singer and dancer that wasn't quite good enough get her own headlining show.
Zellweger does an incredible job of portraying Roxie's obsession with herself and her certainty that she should be a star.
Zellweger comes across equally well as the real Roxie, out to become famous by any means, as well as the fluttery-eyed reformed sinner she plays to the press.
She also does a good job of showing Hart not as a professional star of the stage, but as the mediocre singer and dancer that the role calls for, a perfect example of which is the point in the film in which she is auditioning after she gets out of prison.
Velma Kelly, on the other hand, is a star, and Zeta-Jones brings the appropriate stuck-up overconfidence and self-centered-ness to the role to make the viewer have a genuine disdain for her.
However, she is convincing enough to evoke sympathy as her court case is indefinitely postponed, and her future begins looking grim, when Roxie becomes the new media-darling.
She also showcases her singing and dancing skills by performing one of the most stunning numbers in the film, "And All That Jazz."
Richard Gere plays a role that probably no one is used to, but he plays it extremely well, as testified by his winning the Golden Globe for best actor in a comedy or musical for the role.
Though known for playing kind-hearted nice-guys, Gere convincingly portrays the conceited Johnny Cochran of the 1920's, Billy Flynn.
"If Jesus Christ had lived in Chicago," he says, "and if he'd had $5, 000, and had come to me, things would have turned out differently." Gere sings and even tap dances in this role–and does it very well at that.
Gere, Zellweger and Zeta-Jones all play roles of people who get sucked into the excess of the 1920's.
Roxie Hart and Velma Kelly are obsessed with fame and having their name in lights.
Flynn is the media and money-hungry attorney that is only interested in advancing his own status in that fast-paced Chicago of the 1920's.
However, one role brings a realistic, down-to-earth charm to the film.
As Amos Hart, Roxie's husband, John C. Reilly brings a naivet