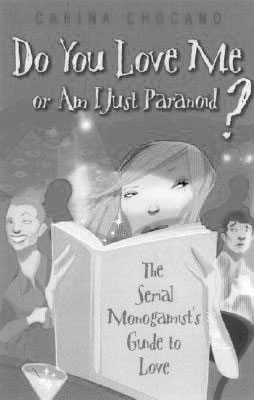 Author Carina Chocano has written a great parody of relationship books with "Do You Love Me Or Am I Just Paranoid?: The Serial Monogamist's Guide to Love," which was released this month.
The book is billed as a "guide" for people who prefer a certain relationship limbo where neither breaking up nor getting married sound like particularly good ideas.
"As we now understand them," she writes. "Relationships allow a couple to remain in a noncommittal monogamous union for an indeterminate amount of time with no clear goal in mind, while simultaneously shielding them from the twin horrors of breaking up and getting married." This book celebrates "serial monogamy" with advice on finding someone special, dating, living together, having sex, breaking up and moving on.
This situation is what most relationship books strive to remedy, though, which is where the parody starts.
There are the requisite lists, present in most relationship books, but laughed at in sections such as "Singlehood FAQ," and a handy guide for finding out if you are in love or insane.There are also chapter ending asides of the "Janice and Roberta are roommates, both newly single," variety.With chapters like "And So It Begins…Again," "You and Your Precious Feelings," and "The Five Year Breakup Plan," Chocano goes through the life of a serial monogamist jumping from one relationship to the other, dispensing poor advice along the way.For example, she writes, "The truth is, potential boyfriends are everywhere. You just have to keep your eyes peeled and your expectations low."Not quite earth shattering.But advice is secondary in this book. In the introduction the author herself concedes that the advice is "terrible.""On the other hand," she writes. "it's probably just the sort you generally give yourself, so there's no hard work involved."This is another way in which Chocano parodies the relationship books. She rejects the ideas of psychology and deep analysis of thoughts and feelings and instead directs her focus on the neurotic behavior this thorough analysis causes.
For example, in "What to Read Into Every Situation," she deftly picks apart a conversation between a man and a woman, which on the surface seems like an innocent exchange. All it takes is the inclusion of one word, "so," to set the author off on what is really wrong beneath the exchanged courtesies. It's humorous, but it also says something about the way adult men and women analyze each other's every move.
At a slim 150 pages, the "Monogamist's Guide" is a quick read with condensed chapters that are sometimes less than a page and a half long.
This is a plus, because the book sometimes gets a little boring as witty humor can only carry a book so far. But, it's an interesting take on stuffy relationship books, which will be appreciated by anyone who has experience with them.