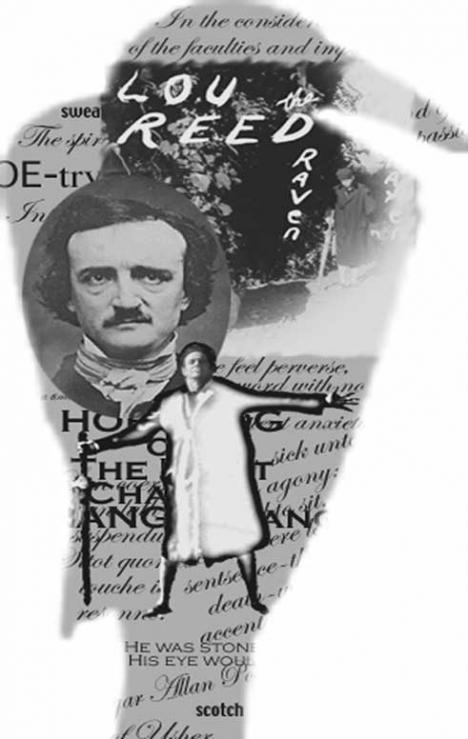 Lou Reed's new album 'The Raven' is the American version of a work he was commissioned to create for the Thalia Theatre of Germany and it comes in one and two disc versions.
It's two hours of Edgar Allan Poe.
It's two hours of Poe sung and spoken by many fantastic actors/collaborators including Willem Dafoe, Steve Buscemi, Laurie Anderson, David Bowie, Elizabeth Ashley, Amanda Plummer and Kate Volk of the Wooster Group.
It's two hours of Poe through Reed's artistic sensibility of unflinching straightforwardness. He takes the Poe stories, characters and worlds updating the texts. He filters and expands to treat Poe's complex themes.
"You know Edgar Allan Poe did not say, 'sweaty dickless liar," Reed clarifies. The lover of Poe's 'Hop Frog' never said, "Businessman, you're not worth shitting on"–at least not directly, until now.
There is a lot of great and unique music. The atmosphere is dark and heavy, then sometimes angelic ecstatic and back. You can get lost in it.
Omette Coleman amazes on the sax and the Blind Boys of Alabama bring gospel and backing vocals.
Newly discovered singer, Anthony, has a soulful, androgynous voice. His voice haunts the cover of Reed's 'A Perfect Day' into context here.
I didn't know Steve Buscemi could sing but his lounge singer act is classic.
Lou Reed's voice, as always, makes me say, "Man, now that's a voice I want." I know Poe would want it. Lou has that upright but world weary ring that matches Mr. Poe.
This is the type of celebration Poe deserves. Lou Reed presents the heart of Poe that was left out of your high school english class.
Please note: This is not the album to just jam with in your car. This is not the album to jam to with your friends (unless they're extra good and weird). It's musical theatre and it needs time, space and thought to be fully appreciated.