Boston Pops conductor visits NKU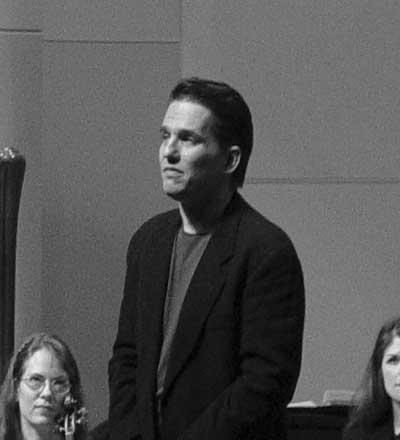 Jen Appel
Last week, the Cincinnati Chamber Orchestra performed a concert in Greaves Hall. It was a spectacular event for many reasons, but primarily because of the conductor, Keith Lockhart. It was a concert even a non-listener of classical music would have enjoyed.
Mr. Lockhart, who is currently the conductor of the Boston Pops Orchestra, is not new to the Greater Cincinnati area nor is he new to Northern Kentucky's Campus. Prior to moving to Boston he was the associate conductor of both the Cincinnati Symphony Orchestra and the Cincinnati Chamber Orchestra, and gave an inaugural concert for Greaves Hall "when the paint was not yet dry," he said. Before the concert he gave a talk on the performance he and the orchestra were about to give. It was plain to see how it was possible that in 1995, at the age of 35, he became only the third conductor of the Boston Pops since 1930. Mr. Lockhart is nothing short of an eloquent orator, as well as a distinguished conductor, whose love of music is contagious. His lecture was witty, amusing, and delightful. Among the pieces he conducted that night, he said that Ma Mere l'Oye (Mother Goose), composed by Maurice Ravel, was one of his favorites. It's a "glorious conversation… in which [the composer] glides effortlessly from one story to the next as though the storyteller is saying 'Well, if you liked that one wait 'til you hear this…. Once upon a time…'." The piece is composed of seven parts, each telling the story of a different fairy tale, such as Sleeping Beauty and Beauty and the Beast, among others.
The orchestra also performed Commedia for (almost) 18th Century Orchestra by William Bolcom, Symphony No. 70 in D Major by Franz Joseph Haydn, and Masques et Bergamasques, op. 11 by Gabriel Faure.
Lockhart said of the piece by Haydn, "The reason I chose to do the piece was because of the unusual little devices Haydn utilized and delighted in. It is a piece," he said, "very much unlike any of his other 103-odd symphonies." And, of the piece by Faure, he said he was embarrassed to say that he had never done it before– a fact one would never have guessed had he not admitted it.