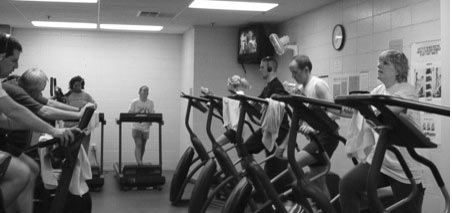 Susan Neltner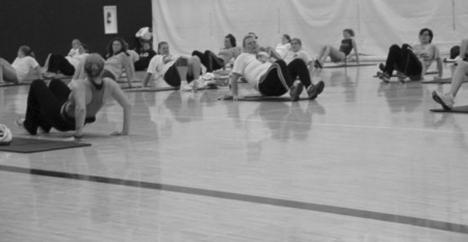 Susan Neltner
You take your first uncertain step on to the machine. Your eyes widen as they look upon a dreaded number – your weight has increased by five pounds.
You decide then and there, as you stand on that little machine, that you are going to lose those five pounds.
Many of us refer to this statement as our New Year's resolution.
For the first few weeks you seem to be motivated. You go to the gym, watch what you eat – even become a fitness guru (or so you think) – but as the year progresses that dream of losing those five pounds becomes obsolete. Often, preoccupation with school, work and relationships can lead to excuses for not going to the gym. Who has time?
According to Kim Linkel, facility/program coordinator of the Campus Recreation Center (formerly, Albright Health Center), many of us at Northern Kentucky University fall into the New Year's resolution trap.
During the month of January there is an increase of people coming to the gym and an increase of people signing up for memberships, Linkel said. Approximately 15 to 20 memberships are sold in a typical month, but that number doubles in January, with about 30 to 40 memberships sold.
Linkel attributes the increase to two reasons. First, students are returning to school and their workload is not heavy. Second – New Year's Resolutions.
But, by the beginning of February, the influx of people slowly dwindles down to the crowd one can expect to see year round.
"Americans overfeed themselves on holidays," said Fabiola Cendales, a building manager at the CRC. "By the time the New Year starts they have set big goals for themselves," he said. "What they should do is set smaller goals."
For example, instead of trying to lose five pounds in a week, make it one pound. A person with realistic goals is less likely to be frustrated, Cendales said.
Cendales stressed that a person has to be aware of his/her lifestyle and be ready to change that lifestyle should the need arise.
Sue Roth, Wellness Coordinator for the Campus Staff and Faculty agreed and added that, in order to lose a pound a week, a person must decrease caloric intake and increase activity level.
"A pound is equal to 3500 calories, so if one wants to lose a pound a week one must do the math. 3500 divided by 7 gives a person 500 calories," Roth said.
A person really does not have to cut back on enormous food intake, just cut the extras out, Roth said. Those extras include (as painful as this may be to some) things like alcohol and soda.
A 12-ounce can of Coke and a 12 ounce can of Budweiser each contain 140 calories. Three cans of soda or beer per day equal 420 calories. Cut those extras out and one only needs 80 more calories to reach the 500-calorie goal.
Roth suggests keeping a journal to track daily caloric intake.
"Don't be obsessive about it, but do it for a week or two to give you a general idea on where you stand," she said.
The Food Pyramid, developed by the United States Department of Agriculture, offers a way to keep count of calories as well as maintain a healthful diet, Roth said.
Using the Food Pyramid as a guide on how to eat healthier is the first step on the road to weight loss.
Eating healthy does not mean that you have to give up your chocolate chip cookies for good. You just have to maintain how many you eat.
"Eighty percent of the time you should feed yourself well," Roth said. "The other 20 percent you can eat junk food if you would like." This means that if you eat, "21 meals a week, three meals a day, you have four meals to play with." But eating healthy is just half of the equation to losing weight. The other half deals with the one thing many of us love to hate – exercise.
By doing some form of exercise, even if it is walking around the track for 30 minutes you can burn at least 200 calories, Roth said.
The CRC offers fitness programs that for all workout types. Programs include kickboxing, step aerobics, yoga, and shallow and deep-water aerobics for those who enjoy working out in a group.
For those who rather work out alone, the CRC offers three basketball courts, six racquetball/handball courts, a four-lane indoor track, a pool, a weight training room full of Nautilus weight equipment, exercise bikes, stair stepper machines, treadmills and cross trainers.
The CRC is available to NKU students, faculty and staff at no charge.
For more information on maintaining a healthy lifestyle or the CRC, call (859) 572-5197.