Wojo rocks Kentucky hall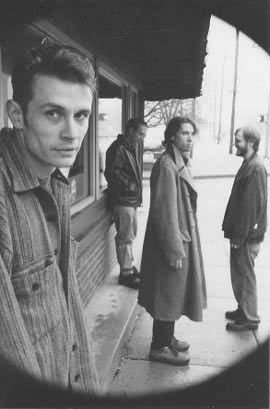 "I don't think we sound like The Beatles," Wojo frontman Justin Lynch said. "Not even on our good days."
Lynch, 30, is the lead singer of the local alternative rock band Wojo, who performed Jan. 18 in Kentucky Hall.
Lynch and bassist Aaron Zlatkin, 29, are both NKU alumni.
Zlatkin is also the Honors Program Secretary.
Lynch described Wojo's style as "American Rock and Roll," and likened their music to that of bands like Wilco, Cracker and "old school REM."
"At other times," he continued, "people say we sound like Tom Petty or The Counting Crows."
This diversity of sound can easily be explained by the combination of band members.
Zlatkin said that he and Lynch's "first big influence was probably REM." Specifically, Lynch said that REM's first five albums were extremely influential for him.
During the sixth-grade, he said, his Dad took him to Bogart's to see The Pretenders and REM was the opening band. He continued, "I didn't care about The Pretenders, but REM just floored me," he said.
Zlatkin said Lynch learned to sing by mimicking Michael Stipe's (the lead singer of REM) singing.
Lynch said U2 and his parent's record collection, especially The Beatles, also influenced him to begin playing music.
Lead Guitarist Mike Fair, 48, brings a somewhat different sound to the band. Growing up, Fair said, he listened to artists like The Rolling Stones, Neil Young, Bob Dylan and the Beatles.
Fair said that he is strongly influenced by country music, Chicago blues, Irish Folk music and even seventeenth-century baroque music.
"I like all different kinds of music," he said.
Fair said that though he brings a blues guitar sound to the band, he doesn't try to make Wojo a blues band.
"It's never been a conscious thing where I try to mix styles," he said.
Fair said when Wojo is writing a song, he thinks of it as weaving a tapestry and he tries to decide what to add to "make it an interesting tapestry."
Though the band Wojo is only two years old, Zlatkin and Lynch began playing music together in 1990 shortly after they both graduated from high school. The two met when they were both in the eighth-grade at The Cincinnati School for Creative and Performing Arts.
Lynch left SCPA after the eighth-grade and finished high school at Purcell High School in Cincinnati.
Zlatkin and Lynch met again by chance in 1991 at a coffee house in Clifton called Leo's that hosted a performance night every Sunday, and decided to perform together.
As Zlatkin points out on Wojo's web site (worldwidewojo.com), this particular night was supposed to be a Gulf War protest night, but the war ended before the event took place. So, Aaron said, the event became a protest of all war.
The two began playing regularly as an acoustic guitar duo they called Skeletons in the Closet shortly after they both graduated.
In 1995, Zlatkin and Lynch did a brief side project to their band Turn Around Norman with other area musicians that they called Wojo.
"We recorded a 7-inch single on record and played one show," Zlatkin said.
Between 1995 and 1998, Zlatkin said, the band went through several lineup changes.
Finally, in 1998, he said, the band had a stable set of members and got serious about recording and performing.
Zlatkin said the band felt they needed a new name.
"We liked Wojo so much we decided to make it our new name."
However, Zlatkin said, the drummer at the time "stabbed himself in the back." He said the drummer recommended Zlatkin and Lynch consider replacing him with his friend Matt Retheford because he was a better drummer.
So, in November 2000 Retheford, 23, became Wojo's new drummer.
Lynch said he met Fair, the last member to join the current lineup, while working as a bartender at Jack Quinn's in Covington three years ago.
At the time, Lynch said, "[Fair] played in a band called Mock Row and the Flock that I really dug."
Fair described this band as a roots group that played mainly country, folk and some blues.
Fair decided to quit Mock Row and the Flock in early 2001, and joined Wojo around May the same year.
Though Fair didn't quit Mock Row and the Flock to join Wojo, Lynch said he considers it a "nice compliment" that Fair joined Wojo.
Fair said he doesn't think about the fact that he is somewhat older than the rest of the band, and finds playing in Wojo very satisfying.
"I love these boys," he said. "I love rock and roll. This is the band I've always wanted to be in."
Wojo have also released locally produced recordings.
In 1995, Zlatkin and Lynch released "Have You Seen One," a 7-inch record single they recorded with the original Wojo side project.
In 1999, Wojo released their first full-length CD called "Exist on Cool." In 2002, Lynch released an acoustic solo CD called "The Skywriters Penmanship Trials" that was originally intended to be a Christmas present for his family, but he said he liked it so much he released it as an album.
Lynch's album was recently named one of the best local CD's of 2002 by CityBeat Magazine. Wojo is also working on a new album called "How to Try Without Succeeding" that Zlatkin said he hopes will be released by May.
Copies of "Exist on Cool" and "The Skywriters Penmanship Trials" are still available at Everybody's Records and Phil's Records.
Wojo will be playing at Jack Quinn's in Covington Saturday, Feb. 1 beginning at 10 p.m.. The show is free and is open to all ages.