Benzino vs. Eminem: Principle or publicity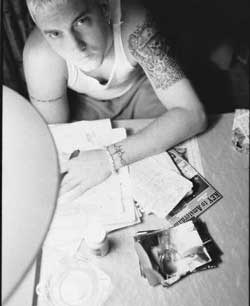 Hip hop loves a war of words. From Ice Cube trading bitter retorts with Easy-E, to Jay-Z spewing angry rounds with Nas, rap feuds have fueled interest and sales _ and sometimes bloodshed.
Now comes one of rap's most pitched and, some say, mismatched battles. Benzino, a modest-selling rapper from Boston, has picked a fight with the mightiest hip-hop star around, Eminem.
The face-off has music fans buzzing.
On raps released this year, Benzino (formerly Raymond Scott) wrote of Eminem: "You're the rap David Duke/The rap Hitler … I'm the rap Malcolm (X), the rap Martin (Luther King)."
And on his new album, "Redemption," which hits stores today, he calls Eminem "2003 Vanilla Ice."
The genre's sales king has taken the bait. Eminem tagged the well-seasoned Benzino (who declines to give his age) an "83-year-old fake Pacino," asserting that "real lyricists don't even take you serious/It's not that we don't like you, we hate you, period." And: "You're the softest, fakest, wanna-be gangsta in New York and it's pitiful."
Benzino claims the battle isn't personal but political. Unlike most rap tussles, which center on skills or street credibility, this one hinges on race.
Benzino says Eminem's huge sales mean that "hip hop is being taken away from black and Latin people.
When he comes to Radio City Music Hall (at the MTV Video Music Awards two years ago) with 100 white guys with blue eyes and acts like he's a gangsta, he understands what's going on."
Benzino draws a parallel to the ad campaign for Elvis' "No. 1 Hits" that reads: "Before anyone did anything, Elvis did everything."
"That's a slap in the face to all of the black people who did those things before Elvis," Benzino says. "I'm afraid in 30 years, they'll say the same thing about Eminem."
Eminem has also noted these ironies, and he never fails to give "props" to hip hop's black leaders.
According to Dave Itzkoff, associate editor of Spin, "It's a slippery slope when you make the argument that hip hop is only a black person's art.
Certainly, its origins are in that community, but if you want it to endure as an art form you have to let other people have their way with it."
But here's where Benzino sees a double standard: Emimen is allowed to talk about deep feelings while black rappers "have to talk about bling-bling (materialistic things) because that's all the people who control the images want to hear from us."
It's debatable whether great numbers of people want to hear from Benzino at all.
Though he has worked for years with respected hip-hop crews like Made Men and Hangmen 3, and has a current club hit with "Rock the Party," Benzino's first solo album from 2001, on Motown, sold under 100,000 copies.
For this reason, some accuse the rapper of taking on Eminem to whip up attention for the new album. "I have a huge deal with Elektra.
I'm making good music, I don't have to do this," the rapper asserts. "I'm taking him on because I have real issues."
He also has real credibility problems with the media. In 1995, Benzino's role as a silent investor in The Source Magazine _ he had been a roommate of Source publisher David Mays in college _ led to a staff rebellion.
Mays had placed a prominent story on Benzino's group Almighty RSO in the magazine. Staff members called it a conflict of interest and asked Mays to leave his post. They left instead.
Some writers have accused Benzino of using his influence with The Source to get guest appearances on his records by such top rappers as Puff Daddy and Jadakiss.
But Itzkoff says that overstates things, since "Benzino has a long credible history as a rapper and as a producer."
At one point during this interview, a publicity spinner from The Source interrupted to suggest that too much attention had been paid to the dispute with Eminem. Benzino rejected the idea and escalated the put-downs.
Emimen "is calling me a girl but he dresses like one in all his videos," he laughed. "He looks like Cindy Brady. Now you tell me, who's the real b__?"