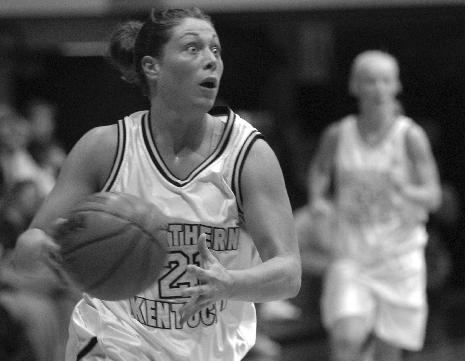 Tim Downer
It seemed as though invisible lids covered the rims at the beginning of Saturday's women's basketball game against Southern Illinois University at Edwardsville. The ball just wouldn't go in easily for both teams, until NKU senior forward Amy Mobley took over to give the Norse a 69-48 victory.
Mobley scored 16 points in the first half for the lady Norse, which shot just 13 of 33 from the field.
The Norse took a commanding 21-9 lead midway through the first half, but watched it disappear after SIUE's LaKesha Cole intercepted a pass and took it the other way for two points. Cole's basket ignited a 9-2 run by the Cougars that cut the lead to 23-18.
NKU weathered the storm and finished the half strong taking a 35-27 lead into the locker room.
The second half belonged entirely to the Norse, as it jumped to a quick 9-0 run thanks to three consecutive three-pointers. Senior guard Bridget Flanagan connected on two of the three three-pointers, the second of which put her over the 1,000 total point mark for her career. Flanagan finished the game with 16 points, sinking four three-pointers in the game.
The Norse shot 51 percent from the field in the second half, and an incredible 62.5 percent from the three-point line.
Mobley led all players with 26 points, six rebounds and five assists, while senior Kristin Polosky added nine points, seven rebounds and six assists.
The 23rd-ranked Norse (10-3 overall, 6-2 in the conference) will head to St. Louis Thursday to take on the University of Missouri-St. Louis Rivermen.