Norse stay undefeated after 79-68 win over Quincy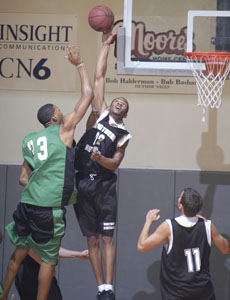 Tim Downer
HIGHLAND HEIGHTS, Ky. – Brenden Stowers scored 15 points and added four steals Saturday as Northern Kentucky University defeated Quincy University, 79-68, in Regents Hall.
Mike Kelsey added 12 points for NKU, which improved to 4-0 overall, 1-0 in the Great Lakes Valley Conference. The Norse shot 61.5 percent from the field in the first half to build a 45-32 lead at intermission, and NKU coasted past the Hawks (1-1 overall, 0-1 GLVC) in the second half.
Chris Seabrooks finished with 10 points and five rebounds for NKU, which made 27 of 33 free throw attempts. The Norse forced the Hawks into 22 turnovers and won despite Quincy's 37-24 rebounding advantage.
Adam Howell added nine points for NKU, while teammate Quentin Smith finished with seven points and seven rebounds.
Bobby St-Preux and Jordan Stowers added nine points each for the Norse, and Jesse Rupe finished with eight points. Brian McNeil led Quincy with 17 points and 11 rebounds.
NKU holds a 14-1 lead in the all-time series with Quincy, and the Norse are unbeaten (7-0) in Regents Hall against the Hawks.
NKU will play host to the University of Missouri-St. Louis at 7:45 p.m. Monday in Regents Hall