Mobley leads lady Norse past Quincy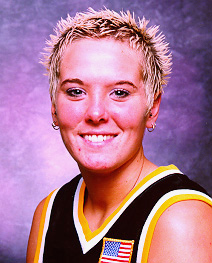 Tom Downer
HIGHLAND HEIGHTS, Ky. – Amy Mobley scored 16 points, grabbed 11 rebounds and finished with three blocked shots Saturday afternoon as the Northern Kentucky University women's basketball team defeated Quincy University, 51-46, in Regents Hall in the Great Lakes Valley Conference opener for both squads.
Mobley, a senior forward and a graduate of Harrison (Ohio) High School, also added three assists as the Norse improved to 2-1 overall, 1-0 in the GLVC. Bridget Flanagan scored 15 points for NKU, which was the preseason favorite in the GLVC coaches poll.
NKU built a 30-18 halftime lead by limiting Quincy to just 18.2 percent shooting from the field. The Lady Hawks rallied, however, and tied the game at 36-36 on Courtney VonderHaar's rebound basket with 8:28 remaining.
NKU responded with a 9-0 run that was keyed by Mobley, who scored seven points during the spurt. Her layup with 4:25 remaining capped the run and gave the Norse a 45-36 lead.
Quincy – which was picked No. 2 in the GLVC preseason coaches poll – fought back and cut the deficit to 49-46 with four seconds left on a basket by Lisa Farrell, but Kristin Polosky made a pair of free throws with 2.8 seconds left to seal the victory for NKU.
Farrell scored 12 points to lead Quincy, which dropped to 2-2 overall, 0-1 in the GLVC. NKU leads the all-time series with Quincy, 14-1, and the Norse are now 7-0 against the Lady Hawks in Regents Hall.
Quincy shot just 25.8 percent from the field for the game, but the Lady Hawks won the rebounding battle by a 49-44 margin and forced 21 NKU turnovers.
NKU will play host to the University of Missouri-St. Louis at 5:30 p.m. Monday (Dec. 2) in Regents Hall.