Buried Alive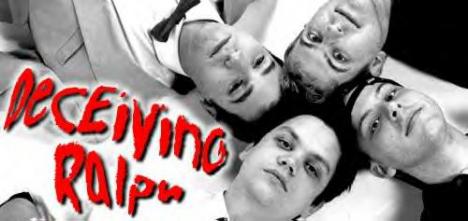 Who thought I completely sold out with the Devo interview last week? Well you're wrong because I'm back with another local band very deserving of your time and your dime. Deceiving Ralph is a Cincinnati based punk band I just recently discovered. Unlike a lot of punk bands whose songs are essentially "I wanna be sedated" with the lyrics changed Deceiving Ralph has it's own creative style in the punk scene. Deceiving Ralph also isn't some lazy punk band who threw some songs together one afternoon and put them up on mp3.com. No, Deceiving Ralph has been making quite a name for themselves in the new Punk movement. They average about 200 shows a year, started their own record label, played on the Warped tour, and have been nominated by City Beat for best punk band the last two years.
Bobby Joe Friday is their drummer who is also the main force behind their website and booking. He also has created several shows for Northern Kentucky's Community Programming Center including an ongoing variety show, "Ground Zero". You can check out the band for yourself at their website www.deceiving.ralph.org/
Hey Bob are you busy?
No, man.. what's up?
You want to be interviewed for my column in the Northerner right now?
Sure, man. Lay it on me.
Chris Ballew from the Presidents hasn't responded back yet and I've been digging you guys so why not.
Ok.
Describe your band in three sentences
Heh, Deceiving Ralph is a band who rocks out 110%. Deceiving Ralph is a band who never takes a shortcut, never gives less than their best, and never leaves a show without putting everything they have into what they did. Deceiving Ralph is a band who will drink all your shasta and knock up your sister.
Haha. Influences?
The vandals, Black Flag, The Queers, The Ramones, Mr. T Experience, Nerf Herder and The Dwarves.
What is Deceiving Ralph currently working on?
Right now we are taking some time off from doing shows to work on some new music and gear up for the New Year. We just finished a video, which can be seen soon on local public access, and are thinking about releasing an ep soon with some unreleased stuff, as well as some live acoustic performances. once the New Year begins we will start plowing out our rigorous show schedule again
Speaking of Public access tell me a little about your show Ground Zero.
Ground Zero was something me and Scott the Ralph decided to do one night. I had majored in TV and radio in college, and after losing our old bass player I moved in with Scott and found out about the local public access center giving free classes. After seeing some of the programs that aired, we decided it was time to give people a dose of reality and change the face of public access in Northern Kentucky. We developed Ground Zero, and started off with whoever would help us out. Doing skits, silly things and showing videos by bands we liked instead of the crap you saw all the time. Two and half years later we are still going strong and cranking out entertainment. Imitators have come and gone, but we have always stayed with it and done what we loved to do.
Define your bandmates.
Scott the Ralph – Insane, uncontrollable, neurotic, emotional and the best friend a guy could have.
Johnny Hooligan – One part dolemite, one part stimpy and all man.
Phatty McDave – Single, willing and able.
Ha ha. If you had to what would you choose doing for a living, the audio or visual?
With deceiving ralph you can't have one without the other. We don't perform like a normal band. We don't jump around like trained monkeys either. We are a band that just does what we do the way we like to do it and we do it full speed and balls to the wall. Being boring and redundant is bulls*** when it comes to music… especially live. you can never feel more cheated then when you see a band you like and they just stand there like they are in a como. The biggest turn off for me is always the drummers. They are always bored out of their skulls and act like they want to be somewhere else. That's a waste of time man, if your gonna put yourself on stage, kick it out 110% or get the hell off and stop embarrassing yourself.
What is your personal favorite track off your latest cd "Dances with Grandma" and why?
Damn… haha. "Dances with Grandma" is such a great cd because of the level at which we matured from our first cd, and the diversity of all the music. There's nothing like starting out with "48" because its just an explosion and its up in your face and gets you pumped up. Then there's tracks like "President of Your Girlfriends Fan club" where you can just kick back and feel it and relate. Every deceiving ralph song is like 93% autobiographical. Which if you really listen to it could scare you because of all the songs being so personal. I can't really pick a favorite. Every song on that cd relates to a certain thing or experience one of us has had, maybe except for "I Saw Her First" haha. But since we put our lives into our music and don't just write bull****, I can feel every song like its the best every time I hear them or play them.
Last question. In a world where anything could happen, what would you see as being the crowning achievement for you guys?
I don't care about deceiving ralph becoming the next Green Day or Blink 182 or Rancid. It's not about money or fame or even fortune. I love Deceiving Ralph. I love what we do. The true crowning achievement that would leave me happy the rest of my life, would be to be able to wake up everyday and already be at work. To be able to do what we love to do, make records and play our music for the rest of our lives