WRFN's dj X looks at what's hot in music
Nick Greenwald , dj
November 25, 2002
Filed under News
Hang on for a minute...we're trying to find some more stories you might like.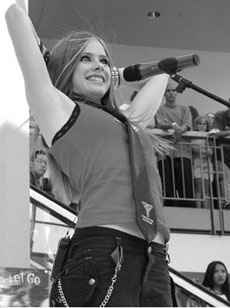 Photo courtesy of Avril Lavigne.com
Welcome back for episode 2. I hope you enjoyed the first one. This one might just get better. So here we go one more time. Brought to you by the ample crew of WRFN. "We define the EDGE."
Album of the Week: Avril Lavigne's 'Let's Go'
Look who raided her dad's tie closet. Coming straight out of the Canadian wilderness it's "Avril Lavigne!" Would somebody please get this walking maple leaf out of my way!
Don't get me wrong, her music has an addictive hook, but punk she is not. "Who are the Sex Pistols?" she asked.
To fans of punk music, the Sex Pistols are ground breakers. You are pop, get used to it, because in a year we'll forget you. Buh-bye to a punk rock poser, hoser.