ISU sponsors 'Monsoon Wedding'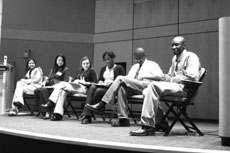 Anamika Soni (India), Nanami Aisaka (Japan), Maria Yanez (Ecuador), Joy Amekpor (Ghana), Garikayi Chingwena (Zimbabwe), & Chairman
Love is a many splendored thing. There are many ways to its many splendors. This was evident at the First Annual International Student Union Movie Night last Friday.
ISU president Burhan Mohamedali (Tanzania) credited ISU advisor Dr. Danny Miller (USA) with the idea for the night's theme of "Dating and Relationships in other Cultures".
The movie 'Monsoon Wedding' was a modern look at Indian relationships in the gathering of a family for an arranged wedding in New Delhi.
It was about the dynamics of love, passionate and familial, in the culture.
The audience was affected by its comedy and drama.
After the film, guest speaker Patrick Whyte (Nigeria) celebrated the human potential to love and how it permeates all nations and cultures.
He spoke of relationships in his native Yoruba culture, where it is normal for parents to choose and arrange marriages.
"Love has never fed anyone's stomach", Whyte said was his father's typical statement. He said it demonstrates how stability in the home is the foremost consideration in Yoruba relationships.
He said the Western idea of love is slowly catching on in Nigeria. He spoke of the conflict and conversation between love, passion and the social stability of the old traditions. He recognized that people need to be responsible for their culture as an honest base for relationships.
A student panel discussion ended the night, addressing questions from facilitator Tosin Ayarinola (Nigeria) and the audience.
Panelist Anamika Soni (India) expanded on several aspects of the movie, ranging from the privacy of Indian sexuality to the liberation of women. According to Soni, traditional Indians do not date.
"In India 'dating' is not an official term…[dating] is not acceptable in society," she said. She said that public displays of affection are taboo.
Joy Amekpor (Ghana) said that this is also true of her culture: "people kissing on the street …people look at them like dirt."
Soni spoke of the resistance of Indian ideals for relationships to Western influences. She said her father says, "Faith in god comes before faith in love."
Several of the panelists claimed low divorce rates in their cultures. Soni believed that many women suffer in bad relationships because cultural traditions and values keep them committed to them.
The panel discussed different gender roles across cultures.
Abdul Kazi (Pakistan), who received an award for his work organizing the event, believed the night was successful; even though, he was a little disappointed in the turnout.
"We were expecting more people," he said.