Experience beautiful Costa Rica
November 25, 2002
Filed under News
Hang on for a minute...we're trying to find some more stories you might like.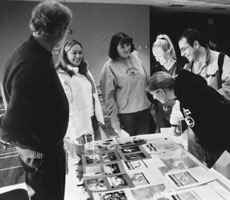 Professor of Biology, Tom Rambo, speaks to a group of students at the Study Abroad Fair held Nov. 20. The NKU Biology Department is offering BIO 490 Plant Physiology, which is traveling to Costa Rica in March 2003.
NKU is currently applying for a grant to build a location in Costa Rica.
"Most stations of this nature are for graduate students," Rambo said. "Undergraduates get assigned all the dirty work, so we want to concentrate on getting them experience."